As a Christian family, there is no greater guide in our home for living life than the Word of God. When we had a chance to review 25 Truths: Life Principles of the Happiest and Most Successful Among Us by Ed Douglas Publications, I was anxious to see if it would contradict the Biblical principles we follow in our home or complement them. Would this little resource provide greater support for how we instructed our children or start taking them down a different pathway? Like many homeschool families, one of the primary goals of our homeschooling is the discipleship of our children. This would be a huge goal for our family, whether we homeschooled or not, but is even more of a focus in having them home with us throughout the day.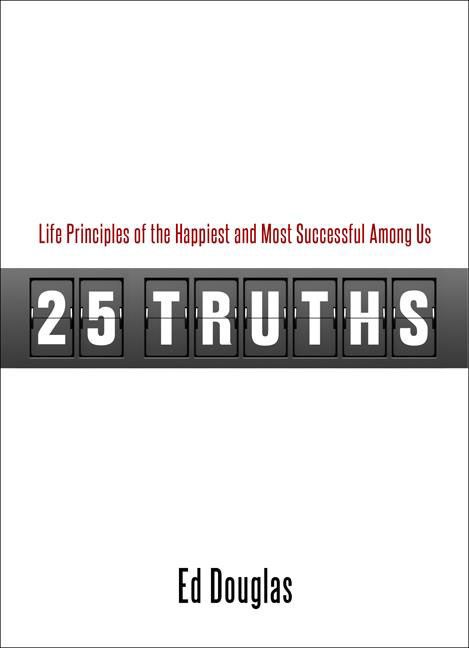 What We Received:
We received a physical copy of the book in softcover form. It is 150 pages in length and retails for $12.50. It is also available as an e-book. As the title suggests, it is broken into 25 chapters with each chapter dedicated to one of the 25 truths highlighted in the book. The chapter lengths are generally about 3 pages of reading material and another two pages of possible discussion questions. The end of each reading section contains a restating of the truth in a simple, yet powerful statement. The discussion questions are very open ended giving themselves to self reflection and further thinking on the truth. It is our feeling that this book is best written to the high school student or adult.  However, it was not written in such lofty writing that our 9 year old did not benefit as well.
How We Used This Resource:
We decided at the start that the use of this resource would not replace our Bible time together, but complement it. With having just focused on Scripture, we thought it would help the kids to really determine for themselves if this was biblically based or just another self-help book that focused on being a better person in your own strength.
We would read a chapter a day out loud so all of our kids could hear the passage together. After reading the section, we would discuss some of the questions presented in the book that corresponded to the reading. On other days, there was a situation that had recently occurred that fit in nicely with the topic and we discussed how it fit in using the reading passage as our lens for evaluating that experience. There were definitely days that we would also go back in the evening and ask if anyone noticed anything in their day that made them think more on the topic and this would often lead to further discussion.
What We Thought:
My husband and I were thoroughly impressed with the material. We found that it upheld biblical principles and at times used scripture as the basis for the truth. Our children noticed that some of the truths directly aligned with the Ten Commandments as well as other passages of scripture in the way that we are to relate to our circumstances and other people. In having three teens in our home, as parents we recognize that this is a time when our kids are seeking guidance, but do not necessarily desire to be preached at. The 25 truths shared in this book provided a broad concept for them to consider using everyday circumstances as the illustrations. It did not come across as preachy at all.
There were definitely times that our teens did not see what the big deal was about a certain truth, while my husband and I had a much greater appreciation for the profound nature of what was shared. This truly comes from our life experience of which only time will pave the way for our children.
In really looking at the truths shared, I think any young person or adult would find themselves in a happier and more successful place if we each took one of these truths and focused on applying it in our lives for a month. There are powerful words in 25 Truths by Ed Douglas, which I can joyfully report are very scriptural as well.
As always, don't just take my word for it.  Check out what other Crew Members are saying…