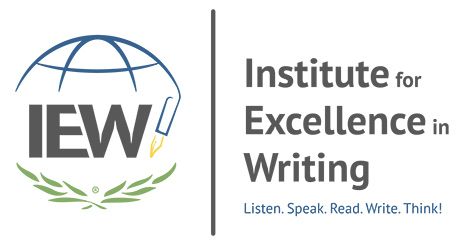 With the abundance of curriculum companies available, there are some that you always think you will give a try based on the rave reviews, but just never do.  The Institute for Excellence in Writing (IEW)has been one of those companies.  We have heard great things, but have not really gotten knee deep in their products.  Recently, that changed.  I am happy to share with you some of what we learned through using the Phonetic Zoo Spelling Level B Starter Set from IEW.
What We Received:
We received a physical set of products from IEW that included all that we would need to get started in using their Phonetic Zoo Level B spelling program.  The materials that we used on a daily basis were the 5 audio CD's, the large lesson cards that contained the spelling rule, jingle, and lists of all three levels of spelling words, and the zoo cards.  The zoo cards are smaller cards that can be used as a reward for the child after completing a lesson or given for individual practice while completing a lesson over a span of a couple of days to a week.
In addition to these materials that we used daily, we also received access to IEWs video Spelling and the Brain, the downloadable Teacher's notes, as well as Personal Spelling Cards that can be used to record and review words that your student may struggle with.
The Phonetic Zoo Spelling Program has three levels: Level A, Level B, and Level C.  This curriculum is generally geared to students in grades 3-8.  The staff at IEW do provide recommendations for curriculum to consider if your child is below Grade 3.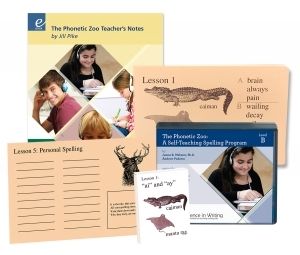 How We Used Phonetic Zoo:
When we received our materials, the first thing I did was to read through the teacher's notes as well as watch the video.  This was incredibly helpful in not only understanding how the program was to be used, but also in understanding why it was supposed to work.  We love trying to new products. But honestly even as a family that loves to do product reviews, we love to know that the curriculum that we take time out of our regular learning for will not be a waste.  So, the information shared in the video was very informative and appreciated.  You will not want to skip this.
I do want to take a moment to step back.  The Review Crew had the opportunity to review Level A, Level B, or Level C of the Phonetic Zoo.  Along the lines of what I mentioned above, I wanted our review time to count and not just set us back in our academic year.  I was thrilled to find a placement test on the product page for the Phonetic Zoo that certainly helped me determine which level would be the best for our son.  When we started using the program, it was evident that the placement tool did accurately place our son in the level he needed to be.
Once I felt like I had a handle on the how the program worked, I walked my son through how to use it and then just provided daily support to him.  The Phonetic Zoo program is self-paced and self-teaching by design.  At the beginning of each new lesson, we would review the lesson card with the rule, get the visual image of the animals and the spelling of their names in our heads, and then read through the word list for Level B.  Our son would then go to the computer to use the audio segments for the lesson.
Each lesson has two audio components.  The first reviews the phonetic rule and jingle and then has the student dictate the word list as it is presented.  There are sufficient pauses for the student to have time to write their responses.  Because it is on CD, my son also had the opportunity to pause the recording until he finished writing as well.  The second audio file for the lesson is the word list presented a second time with the spellings read for the student.  The lessons are meant to be self-checking.  The student is to repeat the same lesson until they completed the word list without any errors two days in a row.  This sometimes took two days and sometimes more than a week.  It really varied depending on where our son's spelling strengths and weaknesses were.
I do have to admit that I did do some spot testing of our son's spelling aptitude for each lesson.  This was not part of the program.  In going into our second decade of homeschooling our four children, I fully recognize that the easy access to the second audio file would present a temptation for the child to surpass the teaching and testing file and just copy the words correctly by listening to the second file.  Yes CHEATING, I hear the gasp as you read that!  The reality is that there are days we are all motivated to do our best and other days when we just want to be done with what we have to do.  On those later days, by human nature can be tempted to take whatever shortcut is available.  To help remove that temptation, having our son know upfront that I would be spot testing him on his words allowed him to realize that jumping into that temptation could not just prolong his spelling lessons later, but get him into trouble he didn't want to be in.  I think boys with their competitive nature could possibly see this self-paced program as a race to get through as quickly as possible.  There was a need in being intentional on my part to reiterate that becoming a better speller was more important than speeding through the curriculum.
Some Closing Thoughts:
I have found that I really like The Phonetic Zoo program from IEW.  The self-paced aspect really focuses on mastery rather than just plowing through content.  The self-teaching aspect allows my son to develop more independence in his schooling while allowing me to still provide support to him as needed.
Our son never complained about doing his spelling.  As any homeschool mom can attest, a curriculum that your child is willing to do without complaining makes everyone's school experience better.  Our son liked the independence, the consistent format of the lesson, and the personal challenge of mastering the lessons in as few attempts as possible.
When we were first presented with the opportunity to review The Phonetic Zoo Program, I was concerned that the title and the use of animal cards would come across as babyish by our 11 year old who so desperately wants to be a teenager like his older siblings.  I never mentioned this concern to him and he never exhibited any hesitancy over the title or the animal cards.
This program was a great fit with the spelling curriculum we have used in the past with our son, which also happens to be one of the early elementary spelling programs recommended by IEW.  I anticipate that we will be purchasing Level C in this series when we complete Level B, because of our son's continued improvement in spelling, his lack of complaining about using it, the focus on mastery, and also the self-teaching aspect.
As always, I encourage you to read the other reviews from the Schoolhouse Review Crew.  Families from the Crew are reviewing all three levels of the Phonetic Zoo program as well as some that are reviewing the Resource Kit also available from IEW.  The Resource Kit includes three products: Timeline of Classics, Teaching with Games set, and A Word Write Now.