Dean Butler, the gentleman who played the role of Almanzo Wilder in Little House on the Prairie, in conjunction with Legacy Documentaries has recently released two new DVDs for your family's viewing pleasure. Almanzo Wilder: Life Before Laura and Little House on the Prairie: The Life of Laura Ingalls Wilder. Our family had the pleasure of viewing the Almanzo Wilder documentary and  are anxious to share some thoughts with you.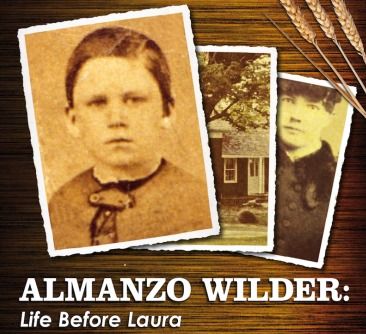 How We are Incorporating This Into Our School
Our family made a movie night out of viewing this documentary about Almanzo Wilder. I was thrilled to share segments with the kids that were shot of the original family homestead located in Upstate New York in being a native New Yorker myself. It was like a taste of going home. The documentary is a mixture of these clips of the restored homestead and the living history museum there and sketches of episodes in Almanzo's life that are shared in Laura Ingalls Wilder's book, Farmer Boy. The total run time for the video is just under 1 hour in length.
Our children have been raised with the Ingalls children. In being a farm family in a community where not many family farms still exist, we have been intentional in sharing the videos from the Little House on the Prairie and other series that have farm families in them. This gives our children something to relate to in not feeling completely alone in the many responsibilities that they carry on the farm compared to the majority of their peers that live in suburban neighborhoods.
As we watched Almanzo Wilder: Life Before Laura, the wheels began turning on different ways that this video could be used in our homeschool experience. Here are a couple that I have come up with:
A great kickoff or endcap to a literature study of Farmer Boy. This is one of the ways we are using this documentary. After watching the DVD, our 9 year old son was given the Farmer Boy book and we will be studying it much more indepth.
A history lesson on farming practices and farm families during the 1800s could be built on the material contained in this DVD in conjunction with other sources.
As part of a complete unit study on Little House on the Prairie, a geography unit could be built in studying about the Wilder homestead in New York, the Ingalls homestead, and then mapping each of their family's journeys to their meeting point. Discussion and exploration of what life on the trail was like using some of the Little House books.
Both of the DVDs from Legacy Documentaries can be used as character sketches on these main characters from the Little House series in preparation for any plays of the story segments that your children or homeschool group would like to put on in dramatic form.
A great introduction to the Wilder homestead for families that will be visiting the area and anticipate stopping in for a visit.
Our Recommendation
For the suggested retail value of $21.95, Almanzo Wilder: Life Before Laura is a nice addition to your family's home DVD collection. It is a great supplement to the Little House TV series as well as the books written by Laura Ingalls Wilder. I really like that it helped these characters come to life as real live people to my children rather than just being fictional characters.
Our culture today oozes with sentiment that children should be catered to and pampered through their childhood. For those parents that choose to hold a higher standard in teaching their children character and a strong work ethic, this DVD is a great resource to help provide support to your choices and to let your children know that even work can be a rewarding experience.
As always, you don't have to take our word for it.  Check out the other reviews from my fellow crewmates on the TOS Review Crew.