There are many historical and documentary style videos about the history of our nation.  A nation that has been called the greatest the world has ever known.  Our family recently had a chance to review the new release from New Liberty Videos entitled Anthem for a Nation.  This DVD was produced with all ages in mind so it is completely appropriate for family viewing.

About the Video:
Anthem for a Nation is a 42 minute video that we received as a physical DVD.  Also on the DVD are some special features from two individuals providing testimony of their lives as survivors in countries directly affected by Hitler's reign and living in nations occupied by a Nazi presence.  The video retails on the publisher's website for $19.95 which makes it comparable to other video purchases.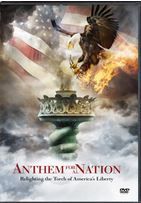 Anthem for a Nation begins with amazing information about highlights the interweaving of the Biblical Foundations of our Founding Fathers in the development of our government, writing of the key documents that outlined the very essence of what America was to stand for and be, as well as the very building of many of our national monuments and government buildings in our nation's capitol.
The DVD has a total of 10 segments in its root menu.  These segments show the progression of how our nation has swayed through its history from the strong Biblical principles and convictions for which it has been found.  The final segments of the ten are a call to order for Christians to stand and return America to its true Founder.
 

Those listening are reminded that our government is a republic and therefore, each of us, no matter how hard we feel the tide pulling our country out to sea, it still responsible to stand firm in the strong Christian heritage of our land and return it to God. 
Our nation has a rich history of blessings from God as we have honored him.  This is our legacy and we must decide if we wish for it to be our future.
Our Family's Response:
To be very honest, our family has really been struggling with much we hear through media reports of changes happening in our country and world showing how values, decisions, and standards are pulling away from God's Word at an ever alarming rate.  I remember being in elementary school proudly singing of the greatest of America and all that she stood for.  My children have not grown up with that same image of our nation in its current state when comparing what they see what many in our nation value that is in stark contrast to biblical principles.
Anthem for a Nation was an inspiring movie, but it was also very sobering and sad.  Tears streamed down our faces during various moments as we responded to so much emotionally in considering the bigger picture of where our nation is  in the eyes of God.  However, the story does not end there.  We are reminded in the final segments that we have a responsibility to stand firm as citizens of this land.  I was reminded that even though we may feel like just a few standing against the multitudes that are trying to destroy all connections with our Christian heritage as a nation, God is still in control.  There are many accounts in Scripture where God used a handful of the faithful to overtake much larger nations.  Our very nation began through the faithful stand that a relatively small number of colonists took in waging war against the greatest superpower of its day in winning the American Revolution.
The combination of facts that would be befitting of a solid documentary with music that incites an almost lost pride in being American is powerfully presented in Anthem for a Nation.  The bottom line is that God calls us to be faithful.  Regardless of what election results may state or new laws that are threatening to pass, we are required to voice support as believers of laws and officials that will honor our God.
If my people, who are called by my name, will humble themselves and pray and seek my face and turn from their wicked ways, then will I hear from heaven and will forgive their sin and heal their land.  ~ 2 Chronicles 7:14
If you would like to see a small sample of what our family was able to review, I encourage you to view the two minute preview of Anthem for a Nation below.
As always, I encourage you to visit the Review Crew website to read the reviews of other families that are part of our team.  Several others also viewed Anthem for our Nation, but additional videos from New Liberty Videos were also reviewed.