Yup, you read that right. A real curriculum for elementary grades that focuses on chemistry and physics. What's more is that this review is coming from one of the most trusted names in homeschool science curriculum. Brand new to their lineup, Apologia Educational Ministries has added Exploring Creation with Chemistry and Physics to their offerings just this Fall.

The Curriculum
The Exploring Creation with Chemistry and Physics course is the newest in the Exploring Creation Series written by Jeannie Fulbright and published by Apologia Educational Ministries. It is written primarily for the elementary grades, but may also be applicable through middle school. This book like the others in the series is designed to take a full academic year to complete.
This course is written for those that adhere to a Charlotte Mason approach to homeschooling, but is definitely not restricted to this group.  It utilizes active listening, narration, journaling, and lots of hands on activities to bring the material to life.
How We Used It
The primary textbook for the course is really designed for the parent to read the section to be covered for the day while the students either actively listen or journal important things they wish to remember. Our family was using this curriculum with our 9 and 13 year old boys. They have found that they do better in comprehending the material if they journal while I read. Given that everything that God has placed in his Creation is made up of matter and has intrinsic properties, this is a course that is just jam packed with applicable everyday knowledge. It was simply amazing to find a quality Chemistry and Physics book for children in this age range. For a full list of topics covered in this text, a sample lesson, and the full lab supply list, please visit the publisher's website here.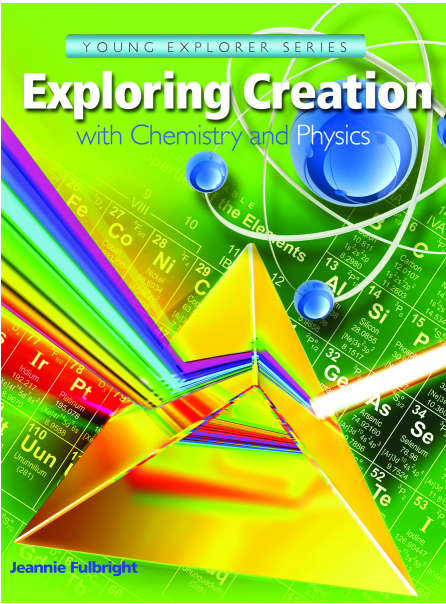 The daily selections that I read aloud were generally about 6 pages in length. We made this determination in using the Daily Schedule that was outlined in the front of our second resource for this course, Chemistry & Physics Notebooking Journal. This is the book that the boys did their journaling in.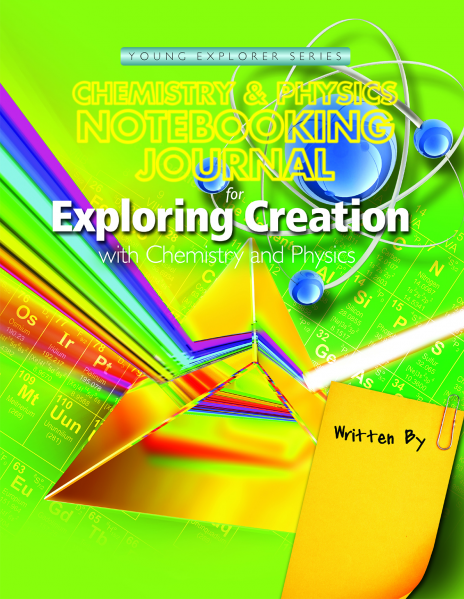 In addition to the journaling pages, the Notebooking Journal also has crossword puzzles, copywork pages, mini flap books, experiment speculation sheets, and a What Do You Remember? end of chapter review page. These pages are found for each of the fourteen chapters in the book. There are also some book suggestions that you can check out of your local library for further investigation into a topic that your child shows extra interest in.
Each chapter in the Exploring Creation with Chemistry and Physics book is just overflowing with hands-on activities and experiments. In Chapter 1 alone, there are 10 "Try This!" activities to choose from.Yes, I used the word "choose". You are free to do as many or as few of these activities to enhance your child's learning as you feel led to. Our family generally does the reading, narration, and journaling first and then follow up with related experiments. For the inquisitive learner that wants to see it work and then learn why, you can also reverse things with placing the experiments first and then reading and narration to follow. If you really want it all laid out for you, there is a "How To Use This Book" reference in the front of the textbook.
In addition to the elements described above, the textbook also has a link shared to Apologia's website that provides videos and other resources for further exploration related to each chapter.
Some of What We Learned
Matter and its properties were the major theme of the first chapter. Our boys learned that all things were made up of matter. The chapter introduced them to the concepts of volume, mass, density,  and buoyancy. The physical properties of matter were also identified: luster, color, shape, hardness, and smell.
We read about these concepts and the boys narrated back about them. It didn't really come to life for them and stick in their memories completely until they experienced it first hand. Just one of the wonderful experiments we did related to understanding density. The presentation of this concept was so practical and simple that it just made common sense.
First, our son was directed to fill two glasses half way full with water.  He was then directed to place a 1/2 cup of salt into one of the glasses and stir it in. He was literally adding stuff to the water and making it more dense. He realized on his own that the density of the water was changing because density was presented in the book as being the "amount of stuff" in something. He was able to see very clearly that the one glass of water was more dense than the other.
Second, he was asked to place an egg in each glass. He found that the egg floated in the salt water, but not in the plain water. Almost instantaneously, our 9 year old exclaimed, "The egg is floating in the salt water because it is more dense! It has more stuff in it." He completely got it.
Because he got it, he could easily record his experiment findings on the speculation sheet in the Notebooking Journal with little assistance from mom or his big brother.
Our Thoughts
We have used science curriculum from Apologia for elementary grades, middle school, and high school over the years. Exploring Creation with Chemistry and Physics is of the same superior quality as the other science resources we have used in the past. This particular curriculum is a wonderful fit for those that adhere to a Charlotte Mason approach to homeschooling. It is also a wonderful option for Classical Homeschoolers that choose to spend a full year on the different science disciplines on a four year rotational schedule. Our family is not strictly Charlotte Mason or Classical in our approach and we just loved this curriculum as well.
Multi-age appropriate:

 This science course was created with K-6 students in mind, but can also be used with middle school students as they transition between elementary and high school level work. Our boys, ages 9 and 13, used the Notebooking Journal, which would be appropriate for those in upper end of elementary school and above. There is a Jr. Notebooking Journal available for younger students in grades Kindergarten through the middle of the elementary years.

Lab Supplies:

 Our experience was that most of the lab experiments and activities could be done using regular household items. There are some materials that you may need to purchase specially for this course. Lab Supply kits are available for purchase for those that wish to get everything at one time.
Colorful Textbook: Our boys loved the way that the pages in the textbook just popped with color. The graphics were appealing, but did not distract from the content being covered.

Notebooking Journals:

 My boys love their notebooking journals. The pages are in black and white, which invites the student to "decorate" them with their own illustrations.  These spiral bound notebooks lay flat to any page which helps students of any age to be able to utilize the full page in their writing. Our boys loved that they journaled their observations and had space to record what they felt were the fascinating facts of each lesson. I really saw them writing an abundance of information without any prodding or coercion on my part. They forgot that they were writing, because they were so excited about the material.

Daily Schedule:

 I love that there is a recommended schedule to follow. If this schedule were adhered to strictly, the course could be completed in 28 weeks of instruction if worked on 2 days per week.  Our family found this schedule to be overambitious. The amount of material covered in a single day seemed like it would be best split over additional days. We finally decided that we could complete the full book in a year if we devoted time 4 days a week to science. This expansion is due in part to our boys love of hands-on learning and the success they found in getting the experiments to work!

Price Point:

 Considering that this is a multi-age curriculum with a hardbound textbook, the pricing is very reasonable. The hardbound textbook sells for $39.00 and each of the notebooking journals retails for $24.00.
I would highly recommend anyone with elementary or middle school students that are wishing to study Chemistry or Physics to consider Apologia's Exploring Creation with Chemistry and Physics.  As always, I also invite you to see what others on the Schoolhouse Review Crew have to say after trying this product out with their children.