When Gary and I were married twenty years ago, we spent our first year together in the great state of Alaska. Being newlyweds, we had many conversations huddled in our cabin dreaming of what our future would hold. One of our dreams was to have some sort of farm or homestead where others could come to get away from city life and the suburbs as well as to provide for our own family. Like most people, the journey of our lives did not jump instantly to this place. God had growing and molding to do in our lives to prepare us, but He did eventually bring us to our dream of owning our own farm. Looking back, we realize that the journey in getting to where we are today was just as important as arriving. We hope to share some of this journey with you through these blog posts.  For now, I would like to introduce you to a book that we just finished reading and reviewing, At Home in Dogwood Mudhole.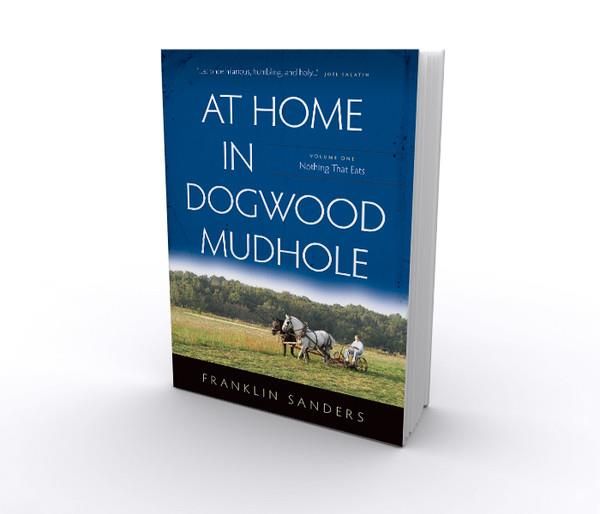 At Home in Dogwood Mudhole is a collection of letters and tales told through the eyes of Franklin Sanders about his family's journey in obtaining and and working their homestead. The book begins in June 1995 and chronicles their life up through 2002. As the story opens we find the Sanders family in the Memphis, TN area. Their hearts are in the country, but their lives are in the city suburbs. There home is bursting at the seams with seven children at home, all needing some elbow room and space to do what kids love to do best. Add into this the concerns that many had at the time of crossing over Y2K and you have the beginning of some incredible tales.
The Author
Franklin Sanders is the husband to Susan, father to seven healthy and rambunctious children, and a Christian. He is an authority on the use of the gold as the standard for commerce and finances. His identity lies not only in being a Christian, but a proud citizen of the Deep South and all that encompasses being a Southern Boy at heart. As an offshoot of this, he participates in reenactments from the War between the States as well as celebrates many occasions with events based in high Southern tradition.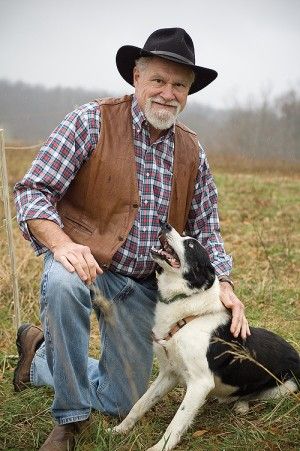 Franklin Sanders, like many homesteaders is not a professionally trained farmer, carpenter, electrician, naturalist, or fencing specialist. Therefore, the events of his life as presented as an ordinary fella like you and I who chases his dreams and allows life to be his classroom.
Some of Our Thoughts
There were so many times in reading, At Home in Dogwood Mudhole, that we felt like we were reading our own story on written page. As I read excerpts outloud to our children, the realism of the tales really hit home. They went from being overjoyed to know that others have experienced some of the same challenges as we have to feeling like it is nothing extraordinary because it is so much like our own days. What has become ordinary to us after more than 10 years of homesteading and moving into full-time farming would certainly have been a blessing in the first years of making this transition.
Sanders has a remarkable way in looking back at these experiences and adding in only the humor that can be shared in hindsight. The reality is that animals are quite crafty and will get out of whatever enclosure you fix for them if they are determined enough. Like people, animals seem to birth or become ill only in the middle of the night and usually in the worst of storms. The other big reality is that most that are making the transition into homesteading must make the choice between the physical home for their family or the value of the land. The land wins out each time as there are no guarantees that adjoining property will open up, where there are always the dreams of renovations and improvements. So yes, the renovations and humble beginnings of most farmhouses are a big part of the picture.
My husband was especially endeared to Franklin Sanders in being a Southern Boy himself. As a boy, Gary frequently visited First Monday in Ripley, MS, learned the value of great barbecue, and has a whole different way of sharing about the Great War between the States than what most textbooks will tell. Unlike Mr. Sanders, my husband committed the unpardonable sin and married a Yankee!!
Whether you are a homeschooling family, farm enthusiast, or just an average person who loves to read about the adventures of others' lives, I would recommend At Home in Dogwood Mudhole. It is the first in a three volume series and currently retails for $22.95.  It is great as pleasure reading for any adult, but is also fun as a family read aloud for those that have an interest in homesteading and farming. Because the book begins in 1995 and Mr. Sanders is deeply involved in the desire for a gold standard in our country's commerce, there is a lot more about Y2K preparations in the first chapters of this book. Some may say that this is irrelevant, but it is very much a part of their story and what brought them eventually to their farm.
For more thoughts, be sure to check out what our crewmates from the TOS Review Crew have to say as well.