Is movie night as popular in your home as it is in ours?  We love to gather around as a family with popcorn and snacks to enjoy a great film together.  Recently, we have enjoyed several of the titles from FishFlix.com.  FishFlix.com has a wide range of faith based films that can be viewed by the whole family.  Our latest review is of the feature film, Faith of Our Fathers, provided to us from FishFlix.com.
The Movie
Faith of our Fathers is a 95 minute feature film produced from the same studio as God's Not Dead.  The film is rated PG-13 for brief periods of war violence.  In spite of this rating, it is this mom's opinion that it is appropriate for family viewing.  There are no intense war scenes, profane language, or scenes of physical intimacy or abuse.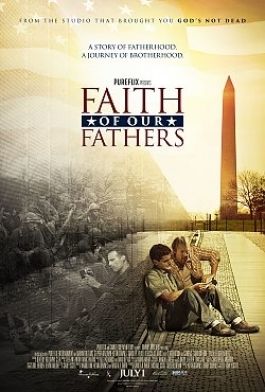 Faith of Our Fathers is a movie with a parallel story line.  It is the story of two fathers fighting together in the Vietnam War who ultimately lose their lives in battle.  It is also the story of their grown sons.  It is the quest of knowing their fathers more that bring these two strangers together, creates a bond between them, and leads them on the journey experienced in this second, but not lessor, story line.  These two parallel journeys are skillfully brought together as the movie reaches its climax.
So What Did We Think
This is definitely a film worth watching.  It is just not a mindless way of filling an hour and a half of your Friday night.  Yes, it is good family entertainment, but there are certainly overriding themes of value woven throughout the movie.
The Human Side of War.  So many war movies show the bravado of our soldiers.  I love when those that have gone to sacrifice their lives for our country's freedom are depicted as brave and courageous.  However, in having teen and preteen sons, I loved the human side of war shown in this film.  The main characters are courageous, brave, and should be upheld as heroes, but they also were scared.  In their humanness, they fully realized the danger they were in and the great chance that they would not come home.  This is a side of war that many times gets lost in many war movies. Our sons need to know that the danger and fear of war is just as real as the glory and bravado.  It is what our soldiers do in spite of that fear and not in its absence that truly makes them heroes.
The Legacy of Fathers.  As I have already shared, Faith of Our Fathers are parallel plots of two fathers and two sons.  Even though these fathers were killed in the line of duty, their character and who they were is seen so dramatically in the lives of their sons.  Further, the absence of these fathers and its impact is identified and shared as a major void in these men's lives.  We live in a culture today that communicates a feminizing of our men and the irrelevance of the role of dads.  Father of Our Fathers makes the statement that dads are important.  Fathers, you make a difference and leave a legacy whether you are present or absent and whether you are intentional or not in passing the torch on to your children.  What will your legacy be?
Our Need of a Savior. I would venture that the overriding theme of this production is our fundamental need of a Savior. Whether we are soldiers fighting battles in trenches on foreign soil, middle class America dwelling in the suburbs trying to do everything right, or struggling to just keep our heads above water, we all have a fundamental need for a Savior.  Our impact and existence count for much more than just this world as we will all live into eternity. What we do with this need not only impacts where that eternity will be, but the legacy we do leave for those that will come after us.
In Closing
Faith of Our Fathers gets a thumbs up from this reviewer as
a great family film,

a film that upholds rather than diminishes the importance of fathers, and

a use of the film medium to reach hearts with the answer to that void that so many are trying to fill that can only be satisfied completely through a personal relationship with Christ.
There are many other feature length films available from FishFlix.com.  Several are being reviewed by our fellow reviewers with the Schoolhouse Review Crew.  Be sure to check out what they are reviewing as well as their thoughts about them.