Our newest review is of an on-line chemistry course, Fascinating Chemistry, which is brought to us by Fascinating Education.  This is the first in a series of courses that uses very much a video approach to learning, which is great for the visual learners in your family.  The other courses in this series are Biology and Physics.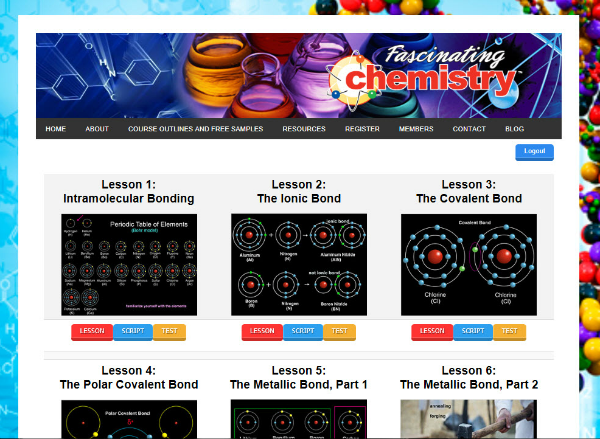 A Little About the Program
Fascinating Chemistry is an on-line curriculum.  In reviewing it and comparing it to other chemistry courses, it covers the same topics of study in detail that are covered in many other chemistry courses that are used at the high school level.  This content is broken up into 18 chapters with a more thorough presentation on the Fascinating Education website that can be found here.
For each chapter or lesson, there are three components: the video based lesson, the script, and the test.  The video based lesson is a very nicely put together slideshow presentation with some animation.  This is overlayed with Dr. Margulies' oral teaching of the material.
The script is a pdf file that is Dr. Margulies' teaching typed out word for word with screen shots of the slideshow in true transcript fashion. This can be printed out or viewed on screen. The final component is the quiz. The quiz also can be taken on-line or printed for separate administration.  The questions on the quizzes are largely on the theoretical concepts.  If taken on-line, the quiz is automatically graded.  However, there is no on-line recordkeeping for your student within the program that will hold their grades, so be sure to view and record your child's grade before they leave the program. The printed versions of the quizzes are held in a separate area of the program where parents enter a specific password.  For the printed version, answer keys are also available for parent grading.
In the separate parent area of the website, there are also an assortment of labs to accompany many of the chapters.  The labs correspond to the teaching and direct the student in how to carry out the lab.  There is no specific direction on how to write lab reports or discussion of expected outcomes for each lab.
How We Used This Program
Our daughter began her high school years wanting to pursue a career in agriculture.  During her freshman and sophomore years, she completed coursework in Agriscience and Horticulture.  During the summer after her sophomore year, her passions changed course and her desire and focus became the area of physical therapy.  She completed her junior year with coursework in Biology.  Now in her senior year, we felt like we had a hard choice to make between Chemistry or Anatomy & Physiology.  We chose a fairly rigorous course in Anatomy & Physiology, but still wanted to find a way to introduce her to the concepts of Chemistry before heading off to college.  We were thrilled when the opportunity arose to use Fascinating Chemistry to this end.
As she began each day of study, we would print off the script for the lesson and put it in her chemistry binder.  As she began the video segment of the lesson, she would follow along in the script being able to highlight important things and make notes in the margins.  It was wonderful to be able to pause the video for note taking purposes or to replay sections she just wanted to hear once more.
We chose to use the printed versions of the tests so that we would have a paper trail of the work she did for this course since there are not daily homework assignments.
High School Credit Worthy??
It all depends.  Don't you hate when that is the answer?  But honestly, it really does depend in some ways.  In our state a course is considered to be worthy of high school credit if it is 170 hours of coursework or the equivalent knowledge.  It does not take 170 hours to go watch the video lessons and take the tests. However, as I looked through the scope and sequence of this course I do believe that it hits on all the major topics of study in a typical high school chemistry course.  There is definitely not as much daily work in not having specific homework questions or problems to solve, which shortens the time for completion of the chapters.
This is the thing.  If your child is a visual and auditory learner, they could very reasonably grasp the "equivalent knowledge" of a full credit chemistry course by using Fascinating Chemistry.  Your kinesthetic learner that needs an abundance of labs or lots of homework problems to really get the concepts through doing may struggle in really obtaining that equivalent knowledge.  To count this as a lab science, I would recommend supplementing this course with additional labs and outside instruction in writing solid lab reports.
Our Closing Thoughts
This was the right course for what we needed it for.  Our daughter needed an introduction on the basic principles of high school chemistry before heading off to college.  The format that the course is laid out in was a good fit for her learning style and the scripts will be invaluable as a reference for any work she does in college in this area of study.  I would be more reserved in endorsing this curriculum for a student that wanted to pursue a career where Chemistry would be integral to further study.  For a student naturally wired that way, I could see this course being used by a really motivated junior high student seeking to be challenged beyond normal middle school curriculum.
As always, I encourage you to check out the reviews by others on the Schoolhouse Review Crew.  Several of these families used the Biology and Physics courses offered by Fascinating Education.