Our boys love the water, swimming, reading about the ocean, and trips to our local aquarium. They dream of sailing the ocean blue like Columbus and exploring the ocean depths like Jacques Cousteau. In our schooling, we have completed short units on the ocean before, but have never taken on something more indepth. This last month we have had the opportunity to use Exploring Creation with Zoology 2: Swimming Creatures of the Fifth Day from Apologia. What an amazing experience!! And a surprising one, too!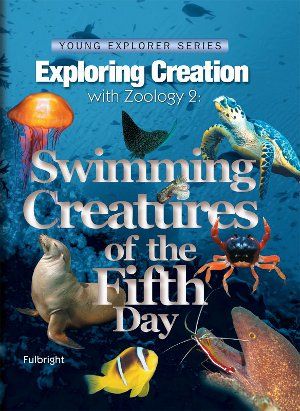 The Zoology 2 book is one of 6 elementary science texts published by Apologia for the K-6 age range. The other books in this series are Astronomy, Botany, Zoology 1 (Flying Creatures), Zoology 3 (Land Animals), and Anatomy & Physiology. The intent of the author was to study God's Creation in the order of His design during the six days of Creation. Apologia has also begun publishing notebooking journals that accompany each of these texts. Two versions of the notebooking journals are available: a junior notebooking journal designed for students in grades K-2 and a regular notebooking journal for those in grades 3-6. We had the privilege of using the regular notebooking journal with our boys who are in grades 3 and 6 as an accompaniment to our review of the Zoology 2 book.
Like many homeschooling families, we have rode the pendulum that swings between having an age appropriate text for each student and doing a more family based study that incorporates more age ranges. The Exploring Creation Science books from Apologia definitely are designed to intrigue and involve students of all ages. I was truly amazed that on most days I was walking away with information that I had never been exposed to and yet my boys were not overwhelmed by the content and were enthusiastically absorbing it like sponges from the oceans depth.
Now for a glimpse into how we really use this curriculum. Inside the Notebooking Journal,  there is a recommended daily schedule. It takes into consideration doing science 2 days a week with a completion of a 26 week schedule. Some may look at this and be worried about it not filling a complete year. Allow me to assure you, this will not be the case. On most days we were challenged to get through all of the material. The boys' enthusiasm over what they were learning could also consume the remaining weeks as we dug deeper and deeper into some of the topics. If we really explored to the depth of their interest, a complete use of these materials could be spanned over two years.
In referring to the Notebooking Journal for our day's work, I would find an outline of the recommended pages in the text to read. It would then further specify sections in the Notebooking Journal to complete. The layout of the two day schedule, the use of narration, journaling, and hands on projects/experiments all remind me of how well this curriculum fits with a Charlotte Mason approach to homeschooling. Although I would not define our homeschooling as Charlotte Mason in general, we do enjoy each of these activities. It also works well with our schedule as our children attend our local homeschool group one afternoon a week. The remaining four days are split evenly into two days of science in the afternoons and two days of history for our elementary aged children.
Our day's focus usually began in my reading the text pages out loud to the boys. We would take frequent breaks for questions, discussion, and to give them a chance to narrate back what we had just read. Most days, our reading would be followed up by "free journaling" in their notebooks. I call it free journaling in that they were free to choice what they felt was important to write about and I also did not specify how much they had to write. They were just given quiet and an open forum. My expectations were exceeded. Many of the writing assignments that we do for school are met with grumbling, complaining, and whining of "how much do I have to write". Both of the boys joyfully journaled each day without complaint and to a much great length than what I would have honestly even required of them. To see their enthusiasm was really a breath of fresh air that I needed in battling my own mid-winter rut that many of us get into.
Aside from the jurnal pages, the Notebooking Journal is jam packed with lots of other activities and resources. Within each chapter of study, there is a copywork sheet to focus on penmanship, a list of review questions that allow for either oral or written review of the content of the chapter, a crossword puzzle to review key facts and terms covered in the text, a topic related minibook, and a resource rich "Dive Deeper" section. Within the Dive Deeper section, there is generally an experiment, a hands on project, and book/DVD recommendations for further study. The students are also encouraged throughout the text to build an ocean box. Many of us have made dioramas for school of a biome of our choosing. The ocean box is similar in concept to this, but rather than building it all in a couple of days, it is recommended to be an onoging project throughout the year. I love this idea! It allows the kids to really focus on each new item that is to be included in much greater detail and research. We might just have them do a little writing assignment with information about each sea creature added to make a corresponding ocean box notebook. The creativity that this curriculum has generated in our home has been truly phenomenal.
Now for a couple of highlights from our time in the midst of our study…
Chapter 1 covers ocean currents, tides, and the different levels of the ocean. How my boys would have loved a field trip to the ocean to experience all of this first hand. Unfortunately, we are pretty landlocked here in KY, so we made a trip to our creek one afternoon when God blessed with mid 50s temperatures on a January afternoon. We had a chance to look for plankton, witness the current and water patterns of the creek, as well as do some nature exploration along the creek beds.It was so much fun as we found things that our newly trained eyes had just look right over during past trips to the same place. I invite you to join us by visiting my previous post, Beauty of Nature Study, to read more about our outing and discoveries.
As Chapter 2 allowed us to learn all about whales, we ventured out this time to our driveway to see just how big these creatures are.
Did you know that a Blue Whale which lives on the Abyssal Plain (yup, that is the fancy scientific term we learned for the ocean floor) measures to be about 110 feet long when it is fully grown? It would reach from  the end of our driveway near the street all the way to the tree that you see in the background of the photo above. Now that is big!! It's tongue also weighs about as much as a Volkswagon bug. I just love that my boys are able to see these concrete comparisons of what would otherwise be dead and meaningless facts in a textbook.
All in all our family has been highly impressed with Exploring Creation with Zoology 2: Swimming Creatures of the Fifth Day by Apologia. I found that both my 8 year old and my 12 year old were equally enthralled and took much away from our time in this study. As a mom on a homeschooling budget, this is a good buy as well. The text sells for $39 and is non-consumable. Both the regular notebooking and junior notebooking journals are priced at $24. These are consumable. The covers on the notebooks are laminated for greater durability and their spiral bound binding allows the books to lay flat for the kids to work in them with the greater ease. Most pages in the notebooking journals are black and white allowing the kids to add their own color to their drawings and writings.
I asked my boys their thoughts on Zoology 2 as well and here is what they had to say:
I like this because it is about the ocean. I like writing in my journal and drawing pictures instead of doing boring worksheets! ~J., age 8.
It is truth, because it is based on God's Word. It shows the animals in really good pictures in the book and the experiments really prove that things are the way the book says they are. ~ Z. age 12.
If you would like additional perspectives on this curriculum and other books in Apologia's Exploring Creation series, I encourage you to read other reviews from the Schoolhouse Review Crew by clicking the banner below:

Disclaimer: I received a free copy of this product through the Schoolhouse Review Crew in exchange for my honest review. I was not required to write a positive review nor was I compensated in any other way. All opinions I have expressed are my own or those of my family. I am disclosing this in accordance with the FTC regulations.