Our family does not school all summer long, but it is nice to be able to incorporate some learning on those rainy days or times when you hear, "Mom, I'm bored.  There's nothing to do." Enter from stage left, the
Go Science Series 2 DVDs
from
Library and Educational Services
.  I love these DVDs, our son loves these DVDs, and the whole family joined in the fun they created.
What We Received:
As part of this review, our family received two DVDs of our choosing from the Go Science Series 2 edition.  We chose the DVD on Chemistry and the DVD on Engineering, Design, and Flight.  There are a total of 7 DVDs in the entire series.  The other titles to choose from are:
Sound, Gravity, and Space
Life, Science, and Weather
Air 1 and Air 2
Motion, Friction, Electricity, and Light
States of Matter and Water
The DVDs do not have to be viewed in order nor do they have to be viewed all in one sitting.  Each of the videos is about an hour in length and contains about 10-15 science demonstrations or experiments. The DVDs can be purchased individually through Library and Educational Services for $8.97 or the entire Series 2 set sells for $59.82.  So there is savings for purchasing the whole Series.  If your children love science and are between the ages of 4 and 12, this is a really great deal.  If your children don't love science, you might just find them more enthused after viewing these videos.  Even those outside the recommended age of 4-12 will enjoy the amazing world of science presented through these simple yet fascinating demonstrations.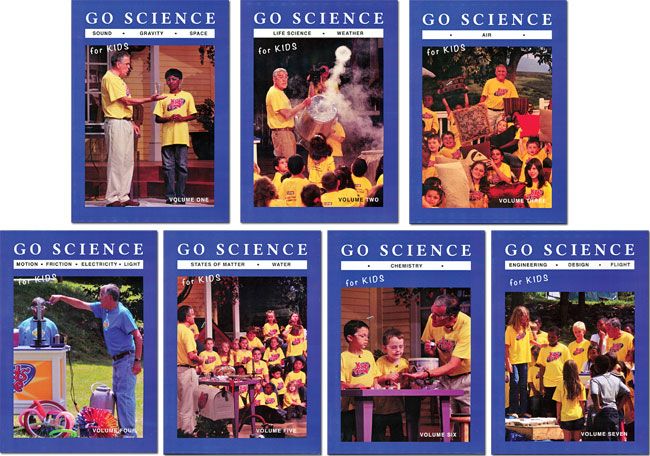 How We Used These Science Videos:
When the DVDs arrived in the mail, I honestly handed them to my son one afternoon while he was bored and told him to choose a video and see what he thought.  His first thought was that Mom was trying to get him to do more school, but he reluctantly put them in with me reassuring him that I thought he would be surprised.  He was amazed and excited about the demonstrations.
The next thing I knew he was pausing the TV and pulling supplies out of my kitchen cabinets.  I don't mind messes, but I am not crazy about chaos.  My first reaction was to question him, but I went against my nature to restate order and just see what he was going to do.  He began recreating a demonstration that was presented on the video that showed how ordinary dishsoap repels color.  Here are some cool things about this experience:
We had everything in the house that was needed for him to do the experiment.
It was completely safe for him to recreate. (Please note: some of the demonstrations do warrant a parent's supervision, but they are generally very safe and can be done fairly independently by the child).
It worked!
The experiment made him want to learn more!!
Our second demonstration hit a little closer to home.  Our little guy mentioned in passing to his dad that he was going to the barn to use 2 dozen of his eggs for a science experiment.  He reassured his Dad that this was going to be really cool, but I think Gary was still a bit concerned about what he was going to do with 2 dozen eggs that did not have anything to do with breakfast. So here it goes…