As a homeschool parent, I desire for my children to understand the world that they live in, but am challenged with the interpretation that the current major media networks put on these events. As Christians, we don't need to put our heads in the sand regarding trends and events occurring in our world, but we also don't have to silently accept the liberal spin many news organizations put on a story. I don't desire rose colored glasses, but rather Christ shaped glasses. We have found this as we had a chance to review the current event magazines published by God"s World News. Our family received multiple issues of the Top Story magazine written for middle school students.

About the Magazine:
Thus far, our family has received the August, September, and October edition of the Top Story magazine. This edition from God's World News is written with the middle school reader in mind. The magazine is generally about 32 pages in length and has articles related to current events, technology and science developments, and articles that reflect the things important to students in this age bracket. Some of the specific topics that peaked the interest of our 13 year old son were:
Reading the Signs – an article on the technology and science used by border patrol agents. (August 2013)
Wildfire Tragedy – a human interest story on the impact of the wild fires in Yarnell, Arizona, and the effects on the fallen firefighter heroes and their families. (August 2013)
All Eyes on Syria – an expose on the debate of US involvement in Syria (October 2103)
The World's Oldest Man – an introduction to Carmelo Flores Laura who is documented to be 123 years of age. (October 2013)
Hank Aaron: Natural Born Ball Player – the journey of Hank Aaron from his childhood to the big leagues and unto the Baseball Hall of Fame. (October 2013)
Why People Move – a series of articles about refugees from lands all over the world. (October 2013)
Robots – a theme of the September 2013 edition was the use of robotics across different industries in America and world wide.
A part of these publications that has really been appealing to our family are the ties to biblical examples. In the article about Hank Aaron, an emphasis was made on how God created Hank Aaron with talents in the area of baseball. The challenge is then issued to the reader to explore what God specially designed him to do in this life. In the October issue, there were several articles on refugees from all over the world and what their lives are like. Examples are drawn out to create a discussion platform for the many times that God's people have been in exile and His continued presence with them.
Beyond the Coffee Table:
Our use of the Top Story magazine went beyond a conversation piece on the coffee table. Our son is currently studying world geography in school. Our studies have been focused on the nations in Africa. The October issue had an article called "Into the Abandoned Mines of South Africa."  This article was a wonderful supplement to our other studies. It shared with the reader the poverty that many in South Africa live in. South Africans are choosing to break the law to illegally go into mines to try to find gold particles that can convert into financial support for their families. These individuals desire to work to support their families legally, but legal jobs are not widely available. Readers are challenged to consider when it is alright, if ever, to break man's law in order to fulfill a command from God. The men in South Africa are trying to provide for their families which is a god given responsibility of fathers, but no jobs exist. Is it right for them to illegally enter mines with the sole purpose of finding a way of providing the necessities of life to their families?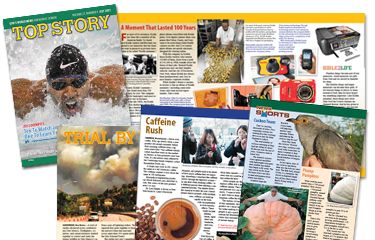 The magazine also has some quizzes printed in the back of each issue. Parents can have their students study different passages in the magazine and then complete the quizzes. All answers to these quizzes can be found on the magazine's website. In addition to the answers for the quizzes, the God"s World News website is bursting with extra resources for every subscriber.  Once logged in as a subscriber, you actually have access to back issues, biographies of individuals that are from all different periods in our world's history, an Explain It! section that shares informative print outs for various topics, an archive of lesson plans from previous issues, as well as digital copies of the magazine.  My son's favorite extra was the This Day in History tab that showed what happened on this day in history over the last several hundred years.
The August edition also came with a color world map.  This map is referenced in many of the articles so the student can get a sense of where the news is happening.
As a parent, I also have been receiving weekly emails with suggestions of how to develop lesson or teaching plans using the articles in the current issue as the basis.
Our Thoughts:
If developing a true worldview for your student from a biblical perspective is a goal of your homeschool, I can not recommend a better resource than the magazine subscriptions from God's World News. Each of the different levels are priced at $28 for a yearly subscription. With these subscriptions, your child will receive a copy of the magazine each month for the 10 months during the academic year beginning in August. The different publications currently available are:
God's Big World (PreK-K)
Early Edition (Grades 1 & 2)
News Flash! (Grades 3 & 4)
News Current (Grades 5 & 6)
Top Story (Middle School)
Trak (High School)
Our experience has shown that each of the articles was tastefully written to inform our son without providing information that was off colored or exposing him to things that should have been reserved for an older audience. We were also thrilled that each article was presented with hope based on God's sovereignty.
Of course, you don't have to take our word for it. Check out the other reviews by our crewmates at the TOS Review Crew.