One of the many hats that I wear is Director of the Georgetown Homeschool Group. Throughout our school year, I have contact with at least 75 homeschool families. There is a common concern among most – Can I homeschool all the way through high school? Most of the parents that I encounter are very worried about missing something major in their child's education that will prevent them from pursuing their future goals. When I was offered the opportunity to review High School Prep Genius by College Prep Genius, I have to admit I was very excited.
High School Prep Genius is a 440 page softcover resource. This is truly a resource and not just a book.  Some of the highlighted features are:
How to Assemble a College and Career Notebook

9th through 12th grade timelines
Advanced Study Tips
7th Grade Talent Searches
Scholarship Ideas
Key Admissions Terminology
Extracurricular Activity Advice
Healthy Lifestyle Skills
Keys to Finding a Mentor
Friend and Relationship Help
Essay Writing Techniques
College Admissions Guide
Test Prep Overview
This guide is definitely applicable to high school students and their parents as well as families with students in the upper elementary and junior high years. The different sections in this book can be broken down into two categories: academic and personal development. Our family was drawn toward the academic sections. Although I read the personal development sections and did not have any disagreements with what was presented, I did not feel that our time was as well spent on the personal development sections.  Addressing our child's ability to pick good friends, develop good study habits, building an adequate support system, and master their motivation are all things that we have tried to intentionally parent our children in from the time they were little. I could see these sections maybe acting as an outside validation for our teens that what we have been trying to drive home for years is being voiced by an "expert" as many authors are seen in this light.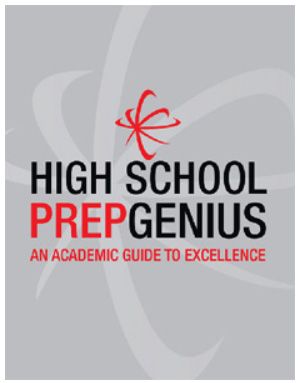 Sections We Really Enjoyed:
9th – 12th Grade Timelines - These timelines, found in the introduction of the book, are very comprehensive sets of tasks to be completed during each year in high school so that the student is ready to take on their next phase of life after high school. Honestly, my first thought was that this was one of my least favorite sections. We have a daughter who is a freshman and one that is a sophomore this year. When reading through these timelines, I felt completely overwhelmed and anxiety ridden. We are behind based on these timelines. I then forced myself to take a step back, pray, listen, and then move on. Yes, according to these timelines there are some things we should have already done. But truth be told, it was the timelines in this book that got us actively looking through the college board website and starting to take action on the things in the timelines. For this, the timelines are a great resource once those initial overwhelming feelings pass.
Going Beyond the Basics - This section discusses the things that students can do academically that go beyond the basic high school level work. Some of the topics included are AP classes, honors programs, and CLEP exams. High school students are pushed so hard academically and my feeling is that it is largely based on the exorbitant cost of a college education. Families are finding that there is more and more pressure on students to get those big scholarship dollars or by pass college as an option, especially among families that are financially equipping their children in a knowledge about the risks and shortfalls of carrying debt. The items presented in the Going Beyond the Basics section are almost being pushed as the basics in many circles. Once again, it was the information that was presented in this section that lead us to further investigation of these topics.
Standardized Test Prep - If you have a child that wishes to go to college, standardized tests are a reality of what they will face as part of the hurdle in becoming a college bound student. This is a relatively short section in this book. The emphasis is on the importance of the PSAT/NMSQT test as a practice for the SAT, but also used as a selection tool for the National Merit Scholars program in your child's junior year of high school.
How to Build a Homeschool Transcript - The high school transcript is the equivalent of an employee's resume. It is the tool that allows you to create the first impression of who your child is to a college before they are ever granted that potential interview. How do you do this? What should be contained? How long should it be? What do I call that class? How do I determine grades, credits, and their GPA. These are common questions most parents of homeschool students have. These and others are answered in this section. It is definitely a solid place to start putting the basics of their homeschool transcripts together.
Great Books to Get You Started - Appendix C of this book contains a suggested reading list for high school students. Our kids do a ton of reading. We have been very delinquent in keeping up with logging the books that they have read. The reading list has served two purposes so far: suggestions for upcoming reads and also a place to skim to help us remember books that have been already read to start getting that reading list built. I have heard mixed things on whether colleges really ask for a student's high school reading list, but would rather be prepared than for it to be asked for and have to try to build it on the fly.
A few small drawbacks:
This is a great resource, but it lacks one major feature. An index. As I was reading through different sections, it would spur thought in other areas. There were several times that I went to the back of the book to jump to a related topic to be reminded once again that the authors did not include an index in this resource.
Our girls are in the middle of their high school years and are in the midst of trying to work extra hard at tying up the loose ends of the current school year. Summer break is calling loud and long. I encouraged them to skim through certain sections of the book. They felt overwhelmed and did not have a great desire to consume all that this had to offer. Rather than marketing this book to the student, I really think it would be better used by the parent. My approach going forward will be to do the research and then giving them smaller tasks to complete. I may put together a small spiral bound notebook as their reading lists and pre-fill in some of the books they have already read. This will then seem like a manageable work in progress that they just need to keep up to date. For our home, this is a much more practical approach than requiring them to sit down to read the book and then implement each section in taking control of their future.  After all, I love that guiding my children is a central role in parenting them.
In Closing:
All in all I would recommend the High School Prep Genius to other families that are trying to get their arms around some of these concerns about not missing things that should be done during our child's high school years.  At a cost of $29.95, it is reasonably priced.  We are keeping our copy handy for future reference as we continue to journey through our high school years.
Still have questions? See what others from the Review Crew have to say about this resource: