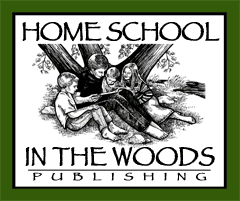 Our family has used a lot of different resources over the years in our pursuit of learning history. We have studied Ancient Civilizations, US History, World History, Geography, and the list goes on and on. We love living literature, historical fiction, map work, biographies, hands on projects, and even non-fiction books. We love it even better when we can bring them all together. This is exactly what happened when we started using the Great Empires activity study from Home School in the Woods.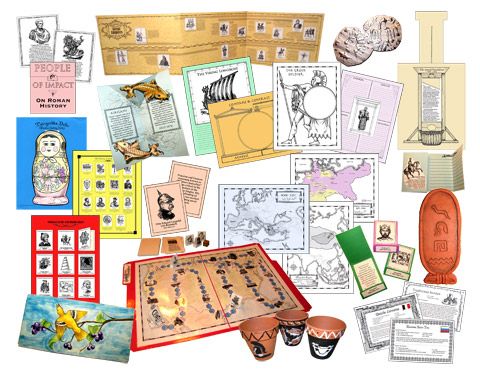 A little about the product:
First, it is not a textbook approach to history at all. The products from Home School in the Woods contain historical fact sheets and context information with their studies. However, the kids learn a lot more from doing and applying than by just reading or listening. Our experience was that the doing leads to a desire to do more reading.
The curriculum arrived to us in a digital download, although it can also be purchased on CD. There were separate directories within the zip file that we began exploring to figure out how everything was laid out and just what was available for each empire.
The course is designed for you to spend approximately 1-3 days on each Great Empire. There are 14 empires included in this study:
Ancient Egypt
Ancient Greece
Ancient Rome
Ancient China
Arab~Muslim Empire
Mongolian Empire
Viking Empire
Spanish Empire
French Empire
English Empire
German Empire
Japanese Empire
Russian Empire
The United States of America
Included on the CD for each empire is an overview of the history of the empire at its height written in regular text format, biographical information on key figures, maps that can be printed and used in activities, a series of hands-on projects, recommended reading selections, and a link for internet sites that would go along well with the study.
How we used it (a focus on the Viking Empire):
I printed the three text pages that I read with our son. We discussed this information and then put it aside to refer to as we completed the activities with this part of the unit. We then printed off the map of Leif Eriksson's Voyage to Vinland so that my son could chart Leif's journey. It was good to see that a completed map was included in the digital download that I could refer to. The other activities that were included were a short writing project on the Viking Longboat, a craft project where my son made Viking coins, and a recipe for Viking Stew and flatbread. As you can see by the example of this unit on the Vikings, the projects do cover multiple disciplines to help your child get their hands around more than just the facts of the empire being considered.
We found that some outside materials were needed for the projects. These included glue, paint, and cardboard to make the viking coins.
A trip to the library for some additional resources.
And ingredients to make our Viking meal.
Our Impressions of Great Empires by Home School in the Woods:
This was definitely what I would consider either a survey course or a good springboard for delight directed learning. The amount of information contained in the activity study on each empire was just enough to wet the appetite. We definitely felt the need to supplement the information in the study with additional internet and library resources. With that said, I am not sure my son would have just voluntarily started studying  more about the Viking Empire or others in the study without having been introduced to them in this fun way.
My trip to the library was focused on bringing home additional non-fiction and biographical resources. I left these on the coffee table in our living room and found that all of my children started leafing through them. He was provided with a biography of Erik the Red and Leif Eriksson. An additional project we added on was for him to read one of the biographies. When he was done, he consulted the suggested internet link from the Great Empires study that showed how Vikings dressed. His assignment was to dressed up like the person he read about and then come visit our home. The whole family had a wonderful time interviewing him and asking all about his adventures, family, and things that were important to him.
This study could be used as a half year introduction into the Great Empires of the World as a stand alone product. A timeline built from this study would be an excellent resource for all future world history studies. I think if I were to do this study with our younger son in its entirety, I may take a full year. We would focus on covering the material contained on each empire in this study over the span on a week. Flexibility in our schedule would then be built into our school calendar so that if he chose to spend another 3 to 4 weeks studying the empire in great detail we could pull in other resources to do that.
The Great Empires Activity Study is definitely geared toward the elementary aged student. It could easily be down with children in a family of varying ages as a group or could be used by a homeschool co-op. The cost of the study is $18.95 for the digital download and $19.95 plus shipping for the CD version. It is important that you keep in mind whatever printing costs will be occurred with this study to complete the activities.
All in all, our son and I enjoyed this study. He is in the upper elementary grades, just about to transition to middle school. I would definitely recommend adding additional content for this age, but could see using this product as a stand alone introduction to the Great Empires of the world with younger elementary aged children.
But just don't take our word for it. Check at the other reviews completed by my fellow crew members by clicking on the button below.