When our daughter was younger, she loved playing with her dolls. She loved to imagine them dressed in the style of those she read about in historical fiction books she would read. Her dreams began to take form as she found pieces of fabric around the house, in yardsales, and her dad's old dress shirts that needed to be turned to rags. She could transform these old tidbits into beautiful gowns much like the mice and birds in Cinderella. The hard part was that she was constantly frustrated by her lack of real knowledge of the workings of my sewing machine. My mom had sewed many of our clothes when I was little. I remember specifically how she and I have matching gowns and caps in honor of our nation's Bicentennial celebration in July 1976 for our town parade. The creativity and passion in the area of sewing unfortunately skipped a generation with this momma just barely passing Home Ec in middle school. How could I teach our daughter to really sew when I didn't know myself? Rosie's Doll Clothes Patterns has a wonderful online sewing course that filled in this gap beautifully. Our review of this product, Learn to Make Doll Clothes Video Course with 8 Free Doll Clothes Patterns, will give you a better idea of what this is all about and my daughter's experience in learning more than just how to make doll clothes.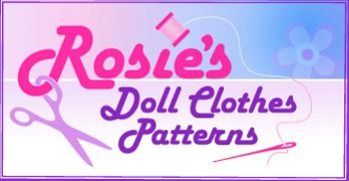 The Product:
When we first saw information about Rosie's Doll Clothes Patterns, we envisioned a huge collection of patterns for doll clothes. It is this, but so much more. There are over 130 video based tutorials on the basics of learning to sew with a sewing machine. These videos are deceivingly set up into a 6 week course. There is so much jam packed into this course that I think we could have completed it in six weeks if we did it over summer break and spent a couple of hours each day. For most of us, it will be a joy knowing that our subscription is for a full 12 months so that we can learn a little at a time and really benefit from all that is there.
Some of the topics covered in the course are:
Setting Up Your Workspace
Learning About Your Sewing Tools
Fabric and Elastic Basics
Preparing and Cutting Your Fabric
Different Types of Stitching
Making Basic and Advanced Hems
Sewing Seams
Making Casings, Tubes, and Straps
The Ins and Outs of Working with Elastic
How to Work with Fasteners, Ribbon, and other Trims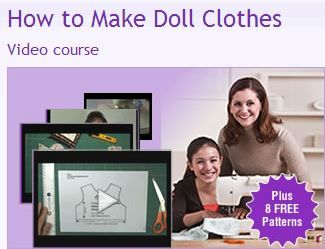 The above items are what I would consider the basic sewing tutorials included in this video course. Also included with this course are 8 free patterns for an 18″ American Girl Doll. Each of these patterns have their own specific video teaching segments with step by step written directions. These tutorials are another curriculum unto themselves. They are introduced on a weekly basis to match the skills learned in Weeks 1-6 in the 6 week course mentioned above. It was wonderful to not have to go through the full six weeks of instruction before making a real project that could be worn by your daughter's favorite American Girl doll right away.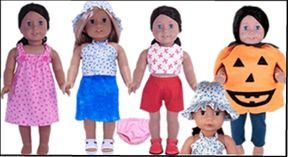 Our Experience:
As soon as our subscription began, my daughter jumped on the computer and began watching the week 1 tutorials. She got out our sewing machine and set it up on a small table that was within eyeshot of our computer. This is a key aspect that I can not stress enough. I do think it is important that you find a way to watch the videos while at your sewing machine. It makes it such a more satisfying experience to be able to switch back and forth between watching, doing, and then repeating as necessary. We loved the videos because it was so easy to go back to rewatch something that you just wanted to doublecheck.
Once we had watched the week 1 tutorials, my daughter was biting at the bit to get sewing. She jumped into the first project which was the sports shorts. After picking out her fabric and getting the other needed supplies (which were all conveniently listed in a supplies list), we reviewed the directions for how to print out the pattern. It was so nice making doll clothes of this size, because the patterns all printed on regular 8.5 X 11 paper without having a tape and splice pattern pieces together. There were very specific instructions on how to set your margins and other printer settings so that the pattern printed out with the exact measurements needed for the project.
This first project was broken down into step by step segments. We loved the fact that it was not one huge lengthy video, but rather 12 separate segments. This helped with download times for spooling of the video itself. It was also beneficial in that you had a sense of accomplishment after watching each video and then completing the step shared in that particular segment. The instruction on the videos was very informative and the instructor, Rosie, was very pleasant to listen to and watch. The project was something that could be completed in a single afternoon. I am sure that once she gets more experience under her belt, my daughter will be able to complete the projects in much less time.
Our Next Steps:
We aren't sure what is next for our 15 year old, but certainly don't feel limited in her options. Rosie's Doll Clothes Patterns and video-based learning curriculum has opened up a number of possible doorways to pass through. Our 15 year old will certainly be making more doll clothes as she perfects her skills and expands her dolls' wardrobes. We are trying to figure out whether to use this course as a springboard into adult sized clothes using these basic skills or possibly starting her own Etsy account with American Girl doll clothes as a main selling point. She has learned an incredible amount already and is eager to continue on. A wonderful aspect of this curriculum is that there are additional patterns that can be purchased very reasonably that all come with written instructions, downloadable patterns, and video teaching segments.
A 12 month subscription to Rosie's Doll Clothes Patterns, Learn to Make Doll Clothes Video Course with 8 Free Doll Clothes Patterns, can be purchased for just under $50. The additional patterns are very economically priced and can be used over and over again.  

This curriculum was designed with those 8 years old and above in mind.  Our 15 year old was able go through the lessons and complete the projects with little or no assistance from me.  We encourage you to check out the reviews by our crewmates at the TOS Review Crew as 59 others have also had a chance to really work with this sewing curriculum and give you the inside skinny on how well it worked for them.