When Gary and I were first married, we were mentored by a couple that had already raised 5 children of their own. We relished each little tidbit of wisdom that shared on marriage, parenting, and our Christian walk. On the parenting front, they encouraged us to think about what skills we wanted our children to have when they left home and then work backwards. This bit of wisdom helped us to envision our children as adults and then figure out age appropriate times to instill certain skills and habits.
We have learned over the years that the "necessary" skills of today have changed a bit even since we married twenty years ago. Yup, that big "20" anniversary is this month. I can't believe how the time has flown by, but also the journey that life has taken us down.
Computer and technology skills really are becoming a necessity in today's culture. Our family does not have cable or computers in the kids' rooms, because we are concerned about the content on television and the internet. However, there are few jobs in our world that do not use some form of computer technology. Like most families we are needing to find a middle of the road on this issue so that our children are prepared for their future.
We have had the opportunity to review Let's Make a Web Page e-book from Motherboard Books as part of this plan in technology education.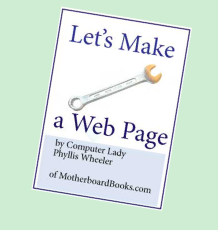 What We Received:
We received a copy of the Let's Make a Webpage e-book. This is a 60 page step-by-step guide geared toward students who are between the ages of 8 and 12. The goal of this course is to introduce a child of this age to the basics of developing a web page. An integral part of the course is the use of CoffeeCup as a webpage development tool. This application can be downloaded for free on a trial basis, but must be eventually purchased separately as the trial period.
What We Did:
I did a quick preview of the curriculum and chose to download the CoffeeCup software and have it all set up for our son. We chose to try this curriculum out with our son who has just recently turned 9 and wanted to focus primarily on the product from Motherboard Books. We did not want him to get frustrated with getting CoffeeCup loaded if there were any issues.
Josh's primary exposure to computers has been mainly with educational computer games, piano instruction through a MIDI interface between our keyboard and computer, and some word processing skills as he writes stories. We started by having one tab open with the e-book and then the CoffeeCup tab where he would do his work. After he struggled with losing his place or accidentally closing one of the programs when trying to switch between windows, we decided to print the e-book out and stick it in a three ring binder.
We then worked through the e-book together as he continued to build his webpage.
Skills He Learned:
Through the use of this software, our 9 year old learned:
The different icons and tools used to develop a basic webpage

How to copy and paste items from notepad to CoffeeCup
How to find and embed files from a stored location on our computer
How to incorporate pictures and sound into his webpage
How to safely look for free elements to incorporate into his webpage through the use of the safe search features through Google
The importance of knowing what permissions he has in sharing images and work of others on his site
Some basic html code through the comparison of the changes he made through the drop-drag interface of CoffeeCup and the HTML it built in the background
How to build hyperlinks
How to add animations (which is always a hit with kids)
The importance of not making his webpage too cluttered and busy
How to set his webpage as our homepage when we open our browser
What We Think:
This is a great introductory course in webpage development for kids. I feel that appropriate direction is given so that kids can safely build without being exposed to the less desirable aspects of the internet. At 9, our son did need some parental assistance in completing this course. I am not sure if this is developmental or more indicative of the little amount that we have had him on the computer as part of school.
The course is reasonably priced at $19.95. There are no shipping costs since it is an e-book that is downloaded directly to your computer.
Our girls have voiced an interest in doing a journalism course as a high school elective. I think that Let's Make a Web Page is a great introduction for them that they can complete in a self directed manner before moving on to more complex programming. We are considering having them build their own websites and then keeping a blog with regular entries. This could be incorporated with field trips to local newspapers and TV stations to further explore careers in journalism, not to mention the different aspects of social media and viral marketing.
I would recommend this course as an introduction for students from the age of 8 and above. Younger students may need some parental assistance in getting started. It is a wonderful way of introducing computer skills to make creative writing a bit more creative and fun!
As always, feel free to check out what other Crew members have to say about Let's Make a Web Page and also LOGO Adventures from Motherboard Books.