A big part of our homeschooling is the use of great literature. Sometimes these are books from the list of great classics and sometimes they are books about individuals that will inspire and motivate us to be all that God intended for us to be. We recently had an opportunity to review Jim Elliot: One General Purpose and Jim Elliot: Unit Study Curriculum Guide published by YWAM Publishing.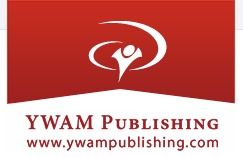 The Books:
As part of this review, we received the biography about Jim Elliot as well as the corresponding study guide. The biography, Jim Elliot: One General Purpose, is a 192 page softcover book. The text is an easy to read format and the chapters are in broken into lengths of about 8-15 pages. It retails on the publisher's website for $6.99 and is also available in ebook versions for the Nook and Kindle. The biography and study guide are recommended for those ages 10+.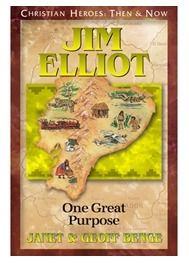 The biography shared events that spanned Jim's life. Some of the opening chapters focus on his decision to follow a calling into international missions and how his family received this news. Following this were those chapters that shared his early days on the mission field and the realistic struggles and highlights that missionaries deal with regularly in reaching new people for the Lord. The final chapters focus on the work that culminates Jim's life. Our 13 year old son read this book and really enjoyed it.  He is not a reading enthusiast by any stretch, but never gave an argument over incorporating this into his normal school day.
YWAM Publishing has also developed study guides to go with many of their books in the Christian Heroes: Then & Now Series. The study guide we received was in 2 pdf files that were easily used.  This is also available in a paperback edition. The unit study contains literature review questions about the story, but also contains activities and exercises that focus on:
Student Explorations that take learning into different mediums such as arts and crafts activities, essay writing, and hands on projects;
Social Studies activities including map work, tracking the journey of the missionary's work, and other geography exercises;
Bible Study through scripture memorization and personal bible application through some of the literature study questions;
Community links with suggested field trips, individuals to introduce your children to, and community based projects;
Related exercises that span into other subject areas that would typically be covered in your child's education;
Suggested materials that can be used for further study which include related books, movies, and websites; and
Final project suggestions to help bring your child's study to completion.
This study guide retails on the publisher's website for $7.49.
How We Used Them:
A major theme in our homeschool curriculum choices is to find a history course for each of our children and then bring it to life through the use of wholesome literature. Before we even knew that we would have the opportunity to review, Jim Elliot: One General Purpose, we had already made the decision to use several of the books from the Christian Heroes: Then & Now series by YWAM Publishing with our son. We had determined that this would be a good year for him to study world geography. His literature requirement for school would be to read at least one missionary biography from each continent. These biographies in particular also helped to enhance what he was already doing in the area of bible study as well.
During our review, our son read the book from cover to cover. After each chapter that he read, he would answer the four questions presented from the study guide. The first question highlighted a challenging vocabulary word. The second and third questions were usually reading comprehension questions that focused on the plot of the story but also required some thought about the motivation of the individuals for doing what they did. The final question was one that caused our son to really question how he would have react to an aspect of what transpired in the chapter he just read.
Zech also completed the mapwork and related activities to give him an introduction to Ecuador, its placement on the world globe, and its geographic features. We also spent time talking about the cultures that Jim Elliot and the other missionaries came into contact with and how they varied from our own.
As I write this review, he is finishing up the final two chapters in the book. We are looking forward to doing some of the student exploration activities and a final project before launching into our geography studies of South America.
Other Applications:
In considering these books and study guides, I began exploring other ways of utilizing these great books.  Here are a few of those thoughts:
A sequence of these books could be used to build a course in World Missions or Church History. The publisher has  a complete listing of the biographies in this series as they would be read in chronological order. To see this listing, click here. Reading these books in this order would give your child a real feel for the development of world missions and some of the challenges that missionaries faced both "Then & Now".
These studies are a great way to inspire a young person to think of how they can be used by God and what He may calling them to do.
These books also would lay great groundwork in allowing our children be better able to communicate with, pray for, and become more aware of the work of missionaries around the world. Our family has a close friend that is currently serving the Togolese people in Africa. Supplementing her newsletters from the field with reading of biographies of other missionaries really would help for our children to appreciate and interact with her in written correspondence, care packages, and also when we get the chance to visit while she is on furlough.
These books would also be a great blessing to any related class in a homeschool co-op, Sunday School Class, or your church's preteen/teen youth group.  These are resources that students who attend public school may never otherwise come into contact with.
Our Recommendation:
Our family gives both the biographies and study guides a big thumbs up. The biographies offer solid and enjoyable reading material and inspiration and the study guides kick it all up a notch.  

As always, check out what our crewmates from the TOS Review Crew have to say as well.