One of the greatest challenges we have had in our years of homeschooling is finding a math curriculum that helps each of our children to understand and thrive in their math abilities.  The result has been several different math programs being used each year among our four acorns.  Oops…  they are all growing up.  We now have four saplings and soon some will become pretty well established trees.   Now back to the math.  Because finding just the right fit between how our children think and the approach taken by each math curriculum can be difficult, I am always open to reviewing what is out there and keeping my options open.  We have heard a lot about Math Mammoth, but up until a month ago had never had a chance to actually use it.
The Math Mammoth company offers an array of math products.  Some are smaller books on specific math topics while others can be considered complete stand-alone math curriculum.  The product we evaluated was 6th grade full curriculum in the Light Blue Series.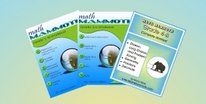 What We Received:
The Math Mammoth products can be purchased as a physical product or in a download version.  We received the download version of the Light Blue 6th Grade complete curriculum.  In the download, we received two student worktexts, answer keys, test packets, and supportive materials.  An overview of the content of this course can be found here.
What We Did:
Our son, who would be using these materials, was just about to begin the unit on fractions in his regular math curriculum.  For the review period, we jumped into Math Mammoth for this chapter to see how the content compared and also to see how he enjoyed this curriculum and was able to grasp the concepts.
The parents guide for the course recommends that the student complete on average about 2 pages per day.  Some flexibility in the planning of lessons was needed as there were not clear cut lesson delineations in the material.  Not all of the topics spanned an even number of pages, which caused days when lessons were split over multiple days.  This would not normally be an issue, but in completing only two pages a day, the curriculum will take about 200 days to complete.  If you are a family that tries to stick to a traditional school calendar and complete the material in the book, this can be a challenge.  Our family would feel somewhat stressed in trying to make up those 20 extra days of material so as not to extend even further into our summer break.
Before beginning the actual work on the unit, I did print off the complete chapter and place it in a three ring binder.  We would begin out day by reviewing any teaching in the large boxes at the top of the sheet and work some of the examples together.  My son would then be assigned a set of problems to do independently.  For students that are strong in interpreting long, verbal instructions at the beginning of the lesson, this could be a completely self-driven curriculum.  Our son is a child that learns better by doing and actually seeing the problems worked before him.  It is for this reason that we worked several example problems together before he started his independent work.
To see a sample of some of the lessons, please click here.
We were thrilled that on most pages the work could be completely done in the space provided.  This has been a big issue for our son who has visual tracking issues.  It is very exhausting and laborious for him to work out of a textbook and copy problems onto a separate paper to complete his work.  This is very common among those with visual tracking issues or issues with dyslexia.  This aspect of the curriculum is a real plus!
What We Thought:
The scope and sequence is very comparable to other major math curriculums for this age group.  The array of topics covered does provide justification for it being considered a complete curriculum.

A mastery approach to math is presented where each topic receives a dedicated chapter of focus.  This works great for students that need the repetition of doing the same type of problem in order to truly grasp the concept being taught.
We have heard many say that the cost of the program is a plus.  I am just not seeing that.  The download version of this curriculum is $34.  This does not include the copy costs for all of the worksheets.  With approximately 400 pages of student worksheets, not to mention answer keys, tests, and supportive materials, to print.  The print costs can easily double what is paid for the downloaded files.  The files do come in pdf form, but are not interactive so the pages truly need to be printed.
I do think that this is a solid math curriculum.  The greatest drawback for our family is the printing costs.  There are options available through the vendors website for purchasing a pre-printed version of the curriculum at a higher sale price.
As always, see what other from the Crew have to say by clicking on the graphic below.