I was really challenged in coming up with a title for this review. My title usually simply states "Product Review of the Week" with the name of the product afterwards. In this case that just does not seem adequate. MusicIQ Homeschool is such a comprehensive program. The folks at Adventus have done an incredible job of combining piano instruction with music theory, ear training, and music history all rolled into one. I have never seen a product like this before. I can not begin to tell you how impressed I am with this product. My formal education actually includes a Bachelor of Arts degree in Music Therapy. In having taken piano, music theory, ear training, and music history in college, I can truly say that if your family were to fully utilize the features in this program, your children and you would have a solid foundation in music. Now on to the specifics.
MusicIQ Homeschool is designed to meet your whole family where you are at both in age and musical experience. There are four basic levels to the curriculum: Children's Music Journey 1, Children's Music Journey 2, Children's Music Journey 3, and Piano Suite. Young children would obviously begin in Children's Music Journey 1. Our 8 year old son began in Children's Music Journey 2 without having any previous musical training and took off like rockets. As your children progress in age and maturity, you can decide as a family whether Children's Music Journey 3 fits their needs or if the Piano Suite is better suited for them. Each ascending level of the software starts at the beginning as if the student had not previous musical training. The difference is in the presentation and the speed with which new skills are introduced. For example, in Children's Music Journey 1 the placement of notes on the keyboard is shown through high notes being "bird" notes and the low notes being "whale" notes. This reference in Children's Music Journey is very short before the children are transititoned to referring to them as high or low notes and their relationship to middle C on the keyboard. The nice part is that in subscribing to MusicIQ Homeschool your subscription covers each of these levels. This means you can try each one out to find the best fit for each member of your family. Each family member can also create their own account linked to the appropriate level of the software. If what you have read so far sounds great, keep reading because you will be pleasantly surprised by the pricing for a monthly subscription!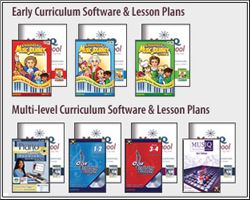 Let's consider exactly how this all works. When our subscription arrived, we had to download the software from the link provided by Adventus. Each of the major sections of the software was quite large, so this is something to consider if you still have a dial-up internet connection or a slower internet connection. If you will be using a laptop, you can usually get very high speed connections at your local library, which may be a great option for when it comes time to download the software. Once the software is downloaded, the next step is to connect your MIDI compatible keyboard to your computer through a MIDI cable. We ran into a small snag since we had an older keyboard. However since it was MIDI compatible, the customer service representatives were very helpful in assisting us with quick responses and great information on getting the connection to work. We were up and running in no time at all.  If you do not have a MIDI compatible keyboard, you can purchase one pretty inexpensively from most retailers. Adventus also has keyboards available for purchase at a discounted rate for subscribers of MusicIQ Homeschool. These small hurdles were the only ones encountered and they were truly small!
Once inside the Children's Music Journey software, our son created his log-in and we were off at a run. There are five areas that the students can explore once in the software: the music library, the games area, the lesson room, Miss Melody's practice room, and the improvisation room.
The lesson room is the area where your child will meet up with a composer from the past who will provide them with their next music lesson. At the beginning of each lesson, the child is greeted with a piece to listen to by the composer that is providing the lesson. This is a great opportunity to expose your child to some music history.  Additional recordings can be found by visiting the music library area as well. The entire lesson is interactive through the MIDI cable. In the first lessons of CMJ2, our son was taught to the location of middle C, finger placement exercises on the keyboard, and note values. Each of the exercises when played by our son were intuitively interpreted by the software to let him know if you had performed the exercise correctly or if he needed to try again. It was really quite phenomenal to see this interchange in action.
Before moving on to a second lesson with the composer, the student must visit Miss Melody's practice room to spend time practicing the techniques and skills learned in the lesson area. Miss Melody will have the child complete various games and drills related to the current lesson and some review from previous lessons. As a parent of a child that likes to steamroll ahead, I found that I needed to listen to my son's practice session before allowing him to go on. The software does not require a certain level of achievement in an area before clearing the student to proceed on to the next lesson. Because the lessons build on one another, your child can become frustrated if they move on through the lessons too quickly without some level of mastery. With that said, the software is great about presenting the material is in very kid friendly way that is fun and also in encouraging the kids by starting them in playing songs that they recognize as soon as possible. My son was able to play Yankee Doodle within the first couple of weeks by reading fingering charts juxtaposed on the musical scale.
Every child, especially boys, love playing games on the computer.  MusicIQ Homeschool is no exception. There is a built-in games console. At first my son was disappointed because only two of the games were accessible. However, the excitement that built when two more games were unlocked as he progressed through the curriculum both let him know that he was truly progressing and also gave him a little bit more motivation to keep working toward more games.
We did not spend as much time as I would have liked in the music library or the improvisation room, but did explore them. Both of these aspects of the software are also great resources. The improvisation room is great for those that are "doers" or hands on explorers. They are able to go into this area and choose the instruments to be played, background accompaniments, and then play their own creations until their hearts are content. The software has recording technology so that they can save they masterpieces for later listening pleasure or to show off to Dad when he gets in from work. The music library has a wealth of music history richness. Compositions from the various composers visited in the software are included. Because our son is a busy little guy, we found that he was very open to listening to these works, but we ended up borrowing them from the library and listening in the car. We did more listening as a result of using MusicIQ Homeschool than before we began using it.
Now here is one of the best features of MusicIQ Homeschool – THE PRICE.  A monthly subscription for your whole family is only $10.95. This is less than what I would pay for a single lesson for one child. Our children have not had music lessons to this point because of the cost. MusicIQ Homeschool has changed this for our family and music is now a part of our lives as developing musicians and not just radio listeners. Adventus also offers Lessons Plans and Practice Guides at an additional cost. These are great resources, but not essential for utilizing the software.
Our family absolutely endorses MusicIQ Homeschool from Adventus. The software is incredible. The breadth of musical knowledge it shares goes way beyond just piano lessons. The pricing is exceptional.The customer service was superb! So let's hear for MusicIQ Homeschool, Maestro!