Before homeschooling our children, I spent virtually no time considering the value of Latin in an elementary child's education. It just seemed like a dead language. If my children were going to study a secondary language, why not something they can at least converse in, right? My thoughts have broadened out a bit over the years and I was really interested in seeing what Prima Latina by Memoria Press is really all about.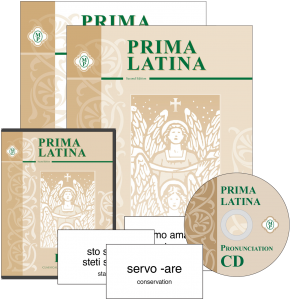 What We Received:
When we received this product in the mail, we received the complete set as shown above. It included the student text, teacher manual, pronunciation CD, flashcards, and the instructional DVD set. This set is marketed as being appropriate for grades 2-4 and retails on the publisher's website for $90.90 plus shipping. The student text is meant to be consumable. It contains instructional material, but is also a workbook where the student practices the lesson material.
The teacher manual is a reproduction of the student text with some extra sections included: a grammar review in the beginning of the book, a vocabulary appendix, sample lesson plan, general teaching guidelines, vocabulary drill sheet (reproducible), and tests with answer keys (also reproducible). A table of contents for the study, sample lesson plan, and also a sample from the teacher manual can all be found by clicking the hyperlinks or by visiting the Prima Latina page on the vendor's site.
The material in this course is broken into 25 lessons designed to be completed on a weekly basis. The breaks between lessons is very clear. The instruction DVD set has a segment corresponding to each lesson that is about 20 minutes long. There are pauses in the material presented on the video segments where the children are encouraged to repeat the verbal sections of each lesson.
How We Used This Curriculum:
We used this curriculum with our 9 year old who has just finished 3rd grade. The program recommends that the student reads the text lesson and then watch the DVD. Our son was much more engaged when we began each new lesson by watching the DVD and then following along in the book.  The DVD segments took about 15-20 minutes to watch. This was time that we spent together. By watching the DVD together, I found that this was an encouragement to our son and also allowed me to learn along side him. This side by side learning allowed me to gain a knowledge of what he was studying so that we could do some unscripted practice or have a little discussion using the practical Latin material in each lesson. This time spent together and little interchanges kept him excited, especially since none of his siblings have had much Latin.
He would then be encouraged to complete as much of of the workbook sections as possible at his own pace throughout the remainder of the week. We would use some time throughout the week to review the new material on the Pronunciation CD as well as use the flashcards.
Our Thoughts on Prima Latina:
This is a very thorough and complete Latin program for the middle elementary grades. As a parent, I feel that we could use this curriculum without my having an prior knowledge of the language. Prima Latina could either be used as a secondary/foreign language or it could be used as an introductory grammar unit. I would caution parents to really take a look at the samples on the website for this curriculum. It is my opinion that in order for a child to feel successful and not overwhelmed with Prima Latina that they really need to be a strong reader. Our son was able to grab a hold of the material as a child that is finishing a core 3rd grade curriculum well. He is not a struggling learner and can easily pick up a chapter book at the 4th grade level and read independently. I am not sure our experience would have been as positive if we started this curriculum even a year ago.
An improvement in the curriculum would be to have a recommended plan of what parts of the lesson to cover each day in the week. We spent the greatest amount of time trying to figure out the proper pacing of each lesson. I would imagine that this would be helpful to many moms that are scheduling multiple courses for their children across all academic subjects.
I have not fully answered the Great Latin debate for our family. What I can say is that if your family is Catholic and attend mass in high Latin, this is probably a great curriculum for your family. If you are a homeschool family and adhere to a classical model of education, Prima Latina would be a great addition to your Classical Trivium core. As someone who has not answered the Great Latin debate question, I will continue to think and pray on the long term role of Latin in our homeschool. If your family is asking the same questions about the role of Latin in your home education program, you may want to check out Memoria Press' article on "Why Study Latin?" Stay tuned for updates as we finish fleshing out our curriculum for 2013-2014 and how Latin fits into our overall plan.
As always, check out what other reviewers from the TOS Review Crew have to say