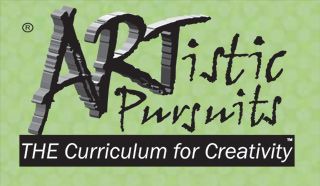 Up to this point, art instruction has not really been a large part of our homeschool experience. Our kids have taken fine arts classes during their elementary years at our local homeschool group and one of our daughters has taken a drawing class and a pottery class. However, art at home has been pretty non-existant. There are a couple of different reasons that have lead us to this reality that I think most homeschool moms can relate to on some level. First, in being a single income family, our first priority for our homeschooling budget is on the kids' core curriculum needs (literature, math, science, and history). It has been easy to make this call as our kids have not been begging to take "art classes". We have some that are more artistic than others, but none of them want art to start feeling like school. Second, I have honestly procrastinated on incorporating more art. It is not an area of natural giftedness for me. Mixing this with my more Type A personality, I was always fearful I would get it wrong and kill even the fun my kids had with art when they did it as a leisure activity. Finally, incorporating into our day yet another thing can usually be associated with a big groan or sigh. Balancing chores on our farm with school can be a huge challenge, especially on days when the weather or the animals just don't seem to corporate.
We recently received Artistic Pursuits'  High School Book 1. The High School Book One: The Elements of Art and Composition is comprised of 16 units that are designed to take the average high school student 32 weeks to complete. Each of the 16 units is broken into 4 lessons – Building a Visual Vocabulary, Art Appreciation and Art History, Techniques, and Application. The students are learning from written discussion of the unit topic, but also from works of art from some of the great masters in the field. The replicas of these more reknowned pieces are presented in high quality and vivid colors. This first of two books geared for the high schooler is focussing on the techniques associated with pencil and charcoal drawings. Book 2 specifically addresses Color and Composition. Before I proceed, allow me to clarify that I am focussing on the high school level book. Artistic Pursuits does offer instructional art books all the way from preschool through high school, so there is something for everyone. The high school level books are very informative and would be great for most adults who would also like to pick up drawing as a hobby or leisure activity.
As you can see in the photo above, this student book is spiral bound. The spiral binding allows the book to lie flat. This is a great feature for an art book since students do frequently go between the book and their own work.
Let's take a closer look inside the unit. Each of the 16 units has several sections. There is usually an introductory page or two that discusses the element of composition focussed on in the unit. For example, the theme of Unit 1 is space. The use of both active and non-active spaces is considered. Students are challenged to actively view an outdoor scene and then draw their own scene paying special attention to the use of space. In the secondd lesson, the student is presented with a piece done by Carpaccio with a thorough analysis contrasting the use of active and non-active space. A brief art history lesson is presented regarding symbolic art providing a historical context for the piece analyzed. The student is then presented with a second drawing assignment. The third lesson in this unit provides techniques for the student to make the best use of the space on the paper in relation to the size of the object being drawn. A third drawing assignment is provided for the student to apply these new tips learned about the use of space. The fourth lesson focusses almost solely on a more intense assignment for the student that requires a bit more creativity and thought. What I really like about this fourth lesson is that at the end of the assignment a student gallery is presented. The student gallery is an example of a piece of art completed by a high school level student for this unit of instruction. So many times, art curriculums only provide works by the greatest artists. Our children see these, then observe their own work, and want to give up because their skills just don't match up. How unfair is that??? The student gallery provides the student with a realistic comparison for their own work. Here is a sample of one of our assignments based on the material presented in Unit 1.
All in all, our family gives the materials from Artistic Pursuits a big thumbs up. We have not become completely reformed as a family in building art into our weekly lesson plans as strongly as math or literature. However, the amount of artwork we have done has risen substantially. The book and supplies needed have been kept in a handy location out in the open offering an ongoing invitation to passersby. The materials are very readable and non-intimidating. Most of the assignments are done in a reasonable amount of time, which lends well to not having to carve large sections of your day out just to feel like you can make a dent. The curriculum is also set up to be used in a very self-directed manner. What does this mean? The kids can do art without having to wait for me to have the time free to provide instruction; instruction that I really don't feel qualified to provide in the first place. This also offers a great option for how the kids can use their small 10-15 minute breaks in improving or completing their art while they are waiting for me to finish up helping a brother or sister during our school day.
The High School Book One: The Elements of Art and Composition retails for $47.95. A supply pack for this course that contains all of the art materials needed to complete the class can also be purchased from Artistic Pursuits for $65.00 plus shipping. The art materials can also generally be found at your local art supply store.
In completing this course, it is my opinion that my children will definitely be exposed to the volume and quality of instruction to fulfill a full high school credit hour in fine arts for their high school transcripts. In addition, they are being equipped with skills that will last a lifetime in providing an outlet for emotional and creative energies. The nature of the assignments in this book are open enough that you could even repeat the curriculum several times and still see new challenges for advancing your artistic skill in drawing and charcoals. Now to get our school year finished so that Mom can have some extra downtime to try her hand at some drawing as well!!
Click to read more reviews from the Schoolhouse Review Crew about the wonderful curriculum for all ages from Artistic Pursuits.