As spring is approaching, homeschool moms everywhere are already gearing their minds up for conventions and selecting curriculum for the coming year. We begin having math books, writing helps, and science experiment kits dance like sugar plums in our heads on Christmas Eve. Some subjects are easier than others. Bible as a class subject has always been a difficult one for me, especially in the last days of Winter and early days of Spring when our school days can sometimes feel stuck in a rut as if it were deep fields of mud in the midst of those Spring Showers. Although it is sadly a part of most of our lives at some point, I have never wanted my children to experience the study of God's Word as being "stuck in a rut". I honestly still waiver on whether Bible should be treated as a school subject or just part of our normal daily routine much like brushing our teeth.  As most moms, my desire is for my children to just instinctly pick up their Bible in the morning and spend time with the Lord as much as they desire coming down in their pajamas to eat breakfast. In the midst of this struggle, the boys and I began a new study utilizing the materials, God's Great Covenant – Old Testament 1, from Classical Academic Press.

God's Great Covenant – Old Testament 1 is part of a three book series. The additional resources are Old Testament 2 and New Testament 1  These studies are designed to be used with students in grades 3-6. Each study has a teacher's edition book, student book, and audio files. Additional resources that can also be purchased, but we did not review, are a maps and timeline set.  The student book has 32 chapters with a similar layout in each chapter. The first page of the chapter is what I would term a summary resource page. It lists the Bible chapter(s) that the study chapter is based on, the theme of the chapter, the memory verse, key facts to remember, key highlighted terms to learn, and a Who is God? question that helps students to better define God as based on the learning in the chapter. The summary page is followed by the chapter reading which usually spans 2 pages.  After the reading, students are provided with review worksheets and a chapter quiz. The softbound student book is intended to be written in and is therefore consumable.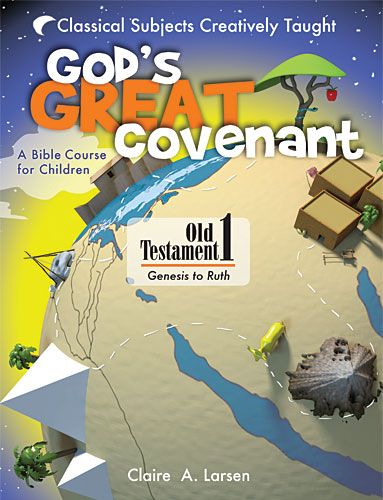 The Teacher's book for this study contains images of the student pages, an abundance of notes that contain biblical references for the material shared in the student pages, space for you to write your own notes, and a series of catechism questions that can be reviewed and memorized. The teacher's book is softbound like the student book, but could be reused over the years. The audio MP3 files that accompany the study contain the same material as on the reading pages of the student book. These can be downloaded to your computer and then either played from there, from an MP3 player, or burned onto a CD for use in your car.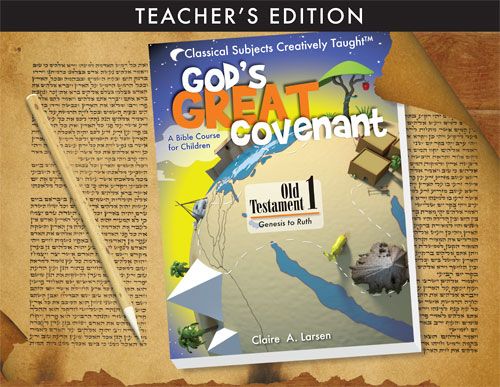 Now for the nuts and bolts of exactly what we found when we got knee deep into this study. My boys really loved it. We began each chapter with reading the Bible passage. The boys alternated in reading sections of the passage outloud followed by a review of the memory verse for the chapter. I would then have the boys look over the worksheets. We have been working on our active listening skills, so having a directed means of fine tuning what we are listening for really helped in this area. Generally, I would then read the reading pages to them while they followed along. It was nice that the student pages were full images in the Teacher's book. This allowed me to read to them without having to borrow one of their books. Because we had already reviewed the information on the worksheets, the boys were very excited and animated in filling in the blanks as we worked through this together. We did use the audio files in alternating chapters to add variety to our study. The narration on these files was clear and in a voice that is pleasing and engaging to the listener. I could see us using these files to a much greater degree if we were ever doing the study on a long trip while in the car or even as review during the week in reviewing the material.
The one aspect that I really like about the Teacher's book was the abundance of biblical references that are footnoted to the images of the student pages. Our family believes that the Bible is truly the inspired Word of God and we need to be very careful about adding to or taking away from it through our own interpretation. The fact that the "narrated" translation of the student pages have substantial biblical references allows me as a parent to test the authenticity of what the publisher is sharing in the student reading pages. This would also be a wonderful study guide for parents that are new believers themeselves desiring a greater understanding of the material that is being presented to their children.
All in all, God's Great Covenant – Old Testament 1 received a big thumbs up from our boys and will be something we continue with. If our pace continues in completing one chapter per week, this study would fill in one academic year. The materials are reasonably priced in comparison to other curriculum with the Teacher's book retailing for $24.95, the student book for $22.95, and the audio files at $9.95. Even though they are comparable in cost to other curriculum, the cost may be the one obstacle for some families.
The materials are well written, friendly to both the adult and student eye, and well structured in the layout of the study. Our family honestly did not use the chapter quizzes when completing each chapter. It went back to my own struggle in making our study of God's Word too school like and killing their joy in falling in love with our Savior. I am sure that you can successfully do both, but we are still trying to work this out for our family.
God's Great Covenant is a study that is definitely worth considering, especially if you are desiring to buy a Bible curriculum for your children. Dont' just take my word on it, but also check out what otheres on The Homeschool Review Crew have to share.

Disclaimer
:  I received a free copy of this product through the Schoolhouse Review Crew in exchange for my honest review. I was not required to write a positive review nor was I compensated in any other way. All opinions I have expressed are my own or those of my family. I am disclosing this in accordance with the FTC Regulations.