This week's review focusses on an on-line science resource presented to us by Supercharged Science. There are a number of products provided by them, but we will be considering their K-12 on-line e-science program. The e-science program is a complete curriculum or can be used to supplement another curriculum you are already using. While we were reviewing this product, our focus was on what it offered to high school students in particular.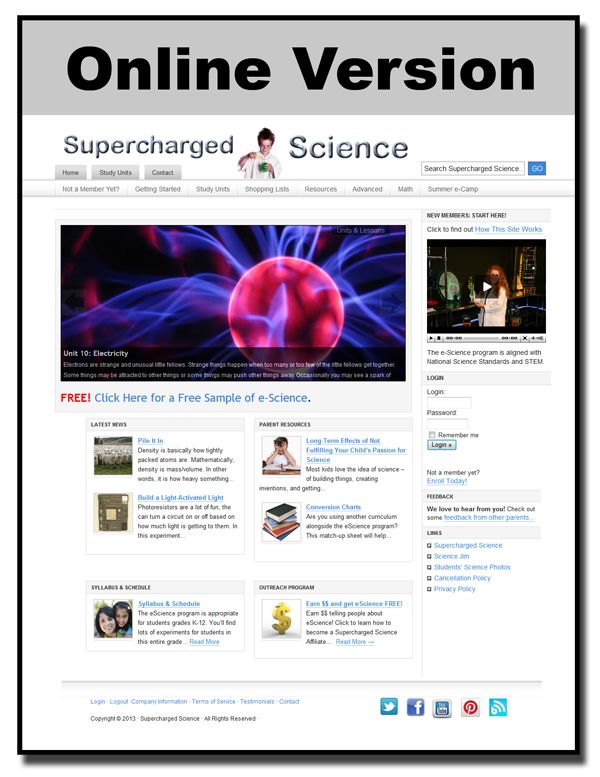 A Bit About How It Works:
E-Science is a largely video and experiment based science curriculum that is all on-line. The fundamental concept behind the e-science program is that kids will be more excited about learning science and be stimulated to think more about it if they see it in action first. Each study unit begins with a video of science in action related the study unit's topic. Many times these videos are examples from the real science world. The video viewer will appear in the main area of the screen along with some additional summary information about the topic. In the right sidebar, there are always the same drill-down menus:
Lesson Plans
Highlight
Introduction
Reading
Experiments & Videos
Exercises
In many of the units, there is an intermediate and advanced level. When this is the case, many of the sections listed above will be tailored to these two levels. Within the reading section for each unit there is generally a more advanced reading assignment for high school students which is a significantly larger download.
There are currently 19 study units in the E-Science program with a twentieth one soon to be released. These include units on the mechanical sciences, astronomy, the physical world, life science, chemistry, biology, alternative energy, electronics, and the new earth science unit about to be released in the near future.
In addition to the study units, there are also units on creating a science journal with a thorough presentation on what comprises a well written lab report, the scientific method, award winning science fair projects, parent resources, and an extra topic on math applications. Under the parent resources, there is a conversion chart that assists those that choose to use e-science as a supplement to the science curriculum you are already using. This conversion chart helps to identify for you which lessons in each study unit coincide with specific chapters in most of the leading homeschool science curriculum on the market. To access this conversion chart, please visit conversion charts.
Our Family's Thoughts and Feelings:
Supercharged Science's E-Science program is a site jam packed with all kinds of wonderful and excellent resources. In the beginning, it is actually somewhat overwhelming as you realize exactly how much is out there. Our oldest daughter is working through Chemistry this year as part of her high school curriculum. We decided to use the conversion charts to find the area of the program that taught about acids and bases, which was her next area of study in her regular curriculum. Acids and bases were very clearly presented in Study Unit 15.  Our daughter watched the introductory video and did the assigned reading as designated for the high school level student. In having completed these sections, she came to me stating that she did not feel that this was a good fit for her. As a mom who had already committed to a thorough review of this product, I was honestly frustrated and wanted to just tell her to go do the experiments anyway, but decided that I needed to really hear from her why she felt that it wasn't a good fit. Her response was actually quite surprising. She has complained for the last couple of years that she doesn't appreciate all of the larger terminology and dry sense of humor of the author of her current science curriculum. Surprisingly, her response to Supercharged Science was that she felt it was not technical enough and lacked the serious tone she had now grown to expect in a solid science curriculum.  This really was startling because her assessment was right on target in some ways.
Aurora Lipper, the mastermind behind Supercharge Science, is a very personable presenter and teacher. She has personally recorded most of the video segments for the curriculum and can take her NASA level scientific mind and convert complex science concepts to the average elementary and high level student. This is the gem of Supercharged Science. This is what our daughter felt was a complete contradiction in her mind. How could she be learning high level science in such easy to understand explanations? Being the martyr that she is at times, she begged to go back to her textbook curriculum, but highly recommended using the e-science program with one of her brothers in particular that is very science oriented in his thinking and loves to work through his learning experiences kinesthetically. I did something that I do not normally do – I took her advise. He absolutely loved it! He loved that Aurora speaks in language that he can understand and manages to help him understand all the big words that scientists feel that they need to use to explain what should be obvious scientific conclusions in his mind.
Let me share with you a bit of his experience. He was about to start a unit on sound, so we opened up study unit 6. In the introductory video, Aurora uses a blow torch, a piece of mesh screen, and a metal pipe to exhibit how as air is heated and rises, it will cause vibrations, which produce sound. He thought this was so cool! Against the advise presented in the video, he was out of the house and on his way out to the barn. He grabbed his dad's blow torch, a metal pipe and small really small wire mesh and replicated the experiment for his dad. He explained exactly why and how it worked.  When I asked him if he would like to keep using this as his science curriculum, he was shocked. "Mom, this can't be real school.  It is too much fun and all we are doing is building stuff to see how it works." What he didn't realize was that it is real school and he had found the perfect fit for him that his sister thought she hadn't.
As I was really exploring the site in preparation for writing this review, we find a second gold mine for our family. Just a few weeks prior, the same daughter had come to ask to do a high school elective in cryptography. Cryptography?? I had to google it to even find out what it was that she wanted to study and then found that it is not something you can typically find a high school curriculum already built for. Cryptography is the study of codes and how to break them. Cryptographers are used by most governments in breaking the codes of other nation's security programs. She is very interested in this as well as attempting to decode the messages contained in Ancient Runes. Yes, the dangers of homeschooling do include your children obtaining really non-conventional interests as you encourage them to jump outside that box of traditional education. Do you know what we found? An entire study of cryptography techniques in the Mathemagic Unit. We are now writing and deciphering codes using different techniques and trying to figure out what we need to add, if anything, to make this into a half or full credit high school elective.
Points to Consider:
As mentioned above, this product may not be a great fit for your family if your children's learning style is much more in line with a traditional textbook, workbook, test format. There are two other points to consider as well from our perspective. First, much of this product is either based on videos that spool from the website or reading that must be downloaded. It is incredibly important that you consider the speed of your internet connection and how much you can download each day under your contract with your internet provider. On days when our connection was running slower, it was very frustrating to the kids to have to wait on the video to finish spooling and also required greater flexibility in how we scheduled our day.
The second point to consider is cost. The cost of the membership is $57 per month for the K-12 program. Your family does have access to information for each of your children regardless of their age. There are no grade levels to purchase once inside the program. In addition to the monthly subscription cost, there are printing costs if you decide to print off the reading assignments for your children instead of having them read them on the computer. Supercharged Science's E-Science Program is largely experiment driven. Some of the materials for the experiments are common household items. Others you will need to purchase. A shopping list is a available for each study unit.
The great news is that you can sign up for a 30 day trial membership. I would greatly recommend this.
Conclusions:
I love the concept behind SuperCharged Science. It is a great resource for kinesthetic learners as well as those that follow a more delight directed approach to science. It can be used to supplement your existing curriculum or as a stand alone curriculum. The only down-side in my opinion is the cost. Unless we were going to use this as our sole science curriculum for our whole family, it is a bit too pricey for our homeschool budget. But don't just take my word for it. Check out what others from the TOS Review Crew have to say.