Do you see that exclamation point in the title of this Spanish curriculum? Spanish for You!  If there is one thing that I hear from most homeschool families, it is this. "I would love for my kids to speak a foreign language, but there is no way I could teach something like that.  I don't know anything about _________________ (pick your foreign language of choice)."  There are a number of companies that have capitalized on that very sentiment and have well developed software programs and apps that will provide a comprehensive teaching of a foreign language. The challenge with those programs is always the same – cost. We recently reviewed Estaciones from Spanish for You! and would love to share with you our experience.
What We Received
When we received this product, there was a physical 42 page soft cover book and multiple files that we needed to download from the vendors website. An email was sent to us with each of the links that we needed in a well layed out format. There was no confusion about what to do in downloading. A few minutes of exploring was all it took to understand where everything was that I needed to get started once the downloads were complete.
Unlike many books, the Estaciones book has the reference section in the front. This section contains information on:
The Alphabet

Common Words and Phrases
Commands
Making and Practicing Flashcards
Games and Activities
The Reference Section is then followed by what appears to be 5 lessons. This took me off guard at first, because I immediately jumped to the conclusion that this was then a five week program. As I began perusing through the lessons, I felt myself becoming overwhelmed by the amount of information in each lesson. I decided to go back and do what I tell my kids to do day in and day out, "Go read the directions." It clearly states in the Lesson Guide Note for Parents that the completion of this course should take 24 weeks for students in Grades 5-8 and 27 weeks for those in Grades 3-4. I then realized that the 5 lessons should really be interpreted as 5 chapters or units.  Unit 1 focusses on the calendar and the weather. The theme of Unit 2 is Fall and School.  Unit 3 is geared around Winter. Yup, you guessed it – Unit 4 highlights the Spring and the colors of Spring. And finally, Unit 5 completes our rotation of the seasons with the Summer.
Each Leccion or chapter has a similar format.  New vocabulary words are introduced first. These are presented in the book, but flashcards for the vocabulary words for each unit. There are also audio files for each section of the lesson. Parents, you really don't need to know anything about Spanish to fully implement this program with your kids.  You can learn right along with them. With the vocabulary words, new commands are also presented.  After the presentation of the vocabulary and commands, three to four new verbs are taught. These include the base form of the verb and its meaning as well as the verb conjugations or tenses. The section on verbs is followed up by grammar instruction. This is the area where your child will learn about good sentence structure, pronouns, adjectives, etc.
In addition to the audio files and flashcards, there are two additional downloads that come with the program. There are audio files that are recorded using native Spanish pronunciations.  The other download is an entire folder of worksheets and an end of the program test. The worksheets and test are in adobe files that are easily accessible. Each of the audio and worksheet files is clearly labelled and easy to find.
As part of our review, we also received a copy of the Teacher Lesson Plans. These lesson plans break down the 5 units in the book into daily lessons with work being completed 5 days a week over 24 weeks for students in grades 5-8 and over 27 weeks for students in grades 3-4. In having worked with these materials, I would recommend that the Teacher Lesson Plans be purchased with the program as it really maps everything out so well.
There is one Estaciones book and set of audio files used for all students in grades 3-8. However, the worksheet files and lesson plans are broken down into grades 3-4, grades 5-6, and grades 7-8. This allows for the material to be presented at a pace that is best for each age group and also worksheets that go into the proper amount of review and detail. For a sample of the Estaciones program, please click here.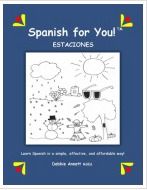 Our Thoughts:
Our 3rd grade son really enjoyed this program. The vocabulary and phrases he was learning were introduced into small bite size pieces at a good pace. He was not overwhelmed and also did not get bored. I think his positive response to this program had a lot to do with the balance contained in the Spanish For You! curriculum in utilizing verbal use of the materials, use of visual cues on the flashcards and worksheets, kinesthetic games incorporated into the lessons, and then the sense of accomplishments in being able to complete the written worksheets. He also honestly liked to show off with his new ability to speak a foreign language.
From my mom perspective, I absolutely loved the lesson plans. They broke the material in the book down into manageable chunks for us to complete each day. The clarity of the plans made it very simple to identify the audio files, flashcards, worksheets, and the pages in the book that were needed each day. Most lessons took us about 15-30 minutes to complete. The days that took 30 minutes were usually days when our son was so enthused about the game we were playing that we lost track of the time. I am a real stickler about getting in our main subjects of language arts, math, science, and history. Honestly, we need to do more foreign language and focus on the arts, but my anxiety level begins to skyrocket when I feel like the "extras" are stealing time away from our core subjects. The Spanish for You! program is one that I do plan on us continuing to use, because I feel it is manageable.
We have two daughters who are now in high school. These young ladies have never really been exposed to foreign language study. Now that they are in high school and face the requirement of 2-4 years of a foreign language as a requirement for graduation, there is a lot of procrastination and resistance. My mom instincts tell me that it just feel too big, scarey, and different for them. They are overwhelmed, because it feels intense. In this manner, I feel as if I have failed them in not having exposed them at least on a very fundamental level to foreign language earlier in their education. This is all the more reason why Spanish for You! is a great consideration for those with younger students.
The Estaciones curriculum would work best if begun in the fall at the beginning of a typical school year. I share this only because the theme of the book is Seasons as its name suggests. My son enjoyed learning what we did, but I think we could have incorporated what he was learning into little dialogues throughout the day if we were learning about fall in the fall.
Last, but certainly not least, is affordability. The Estaciones program can be purchased for $39.95 for each package level (grades 3-4, grades 5-6, and grades 7-8) or you can receive all three levels in a bundled set for $64.95. These packages include a copy of the softcover book or ebook, both versions of the audio files, the flashcards, and the worksheets. The Teacher Lesson Plans are sold separately at a cost of $12.95 for each level of the program. I do want to note that the vocabulary and content covered in the three levels is similar. The major difference is the pacing of the levels and the amount of repetition and depth of the lessons.
All in all, I am glad that we have had a chance to use and review Estaciones by Spanish for You! I am not sure that I would have sought out a Spanish curriculum to incorporate into our studies, because it did feel overwhelming. Spanish for You! takes that fear away. Upon completion of this course, I feel my son will have a solid introduction to Spanish that includes basic vocabulary, simple dialogue, and an introduction to sentence structure and verb conjugations that are so important when learning Spanish.
As always, you don't have to take my word for it. Click on the box below to read more reviews on the Estaciones book or Spanish for You!'s other study, Fiestas.