Spelling You See is a relatively new spelling curriculum published by Demme Learning who produces the Math U See curriculum.  We have never used their math curriculum, but were really interested to see how their "visual" approach to spelling would be received by our son.  Our review is focusing on their Level F book entitled Ancient Achievements.
The Program
The Spelling You See curriculum has 6 books in the series that are labeled as Books A through G.  Each book has a theme that is covered in the book.  We are using Level F, which focuses on passages pertaining to things that happened during the time of the Ancients.  Within these themed passages the student progressively learns spelling strategies through the use of visual memory.  These books are typically used by students in the elementary grade.  Each level has two student books (Part 1 and Part 2) and an instructor's handbook.  We also received a packet of erasable colored pencils when the books arrived.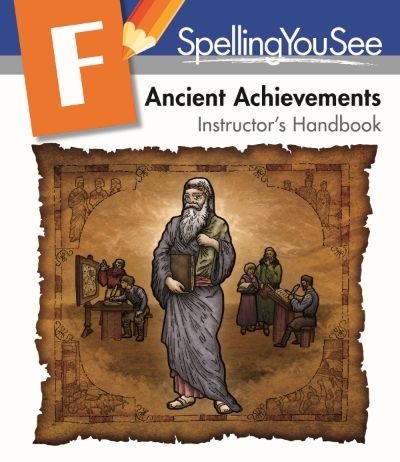 Book F contains 36 lessons which allows it to fit nicely into a full academic year.  Each lesson is make up of 5 daily assignments lettered A through E following the lesson number.  On each day of the week, the student is provided part of a passage in which they will use colored pencils to highlight the spelling skill covered that week.  They are then given the full passage to write.  On day A, the writing passage is presented on every other line with the student copying it directly below on the alternating lines.  This is repeated in a similar fashion on days B and C.  On days D and E, which we typically did on Thursday and Friday, I would narrate the passage to our son and he would have to write it as it was narrated.  This was "graded" by counting the number of words he got correct on each day.  I loved that we were focusing on the number right and reaching for a higher number the following day rather than on the ones that were wrong.  This was a real encouragement to our son.
Some of the skills covered in the Level F book: Ancient Achievements are:
Vowel Chunks
Consonant Chunks
Bossy r Chunks
Tricky y Guy
Endings
Silent Letters
There were several weeks where the students reviewed each of these topics and then also had mixed practice in the second half of the book.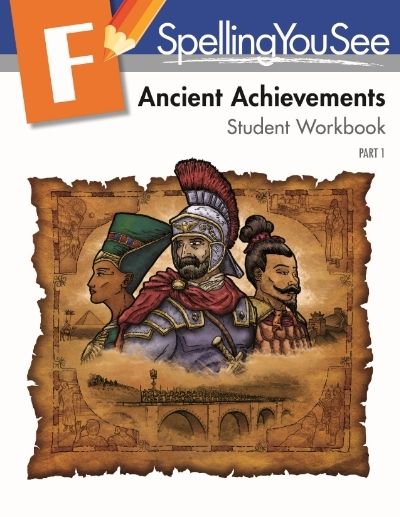 Our Experience
When our son was younger he struggled with dyslexia, visual tracking issues, and split dominance learning.  As we have jumped many hurdles in his journey of learning, spelling has been an area of continued difficulty.  He is actually beyond the normal age range for this curriculum, but based on the placement tool available from the company Book F was just where he needed to be to continue developing his spelling skills.
Before we even tried this curriculum, I loved that the books were lettered rather than having the number of the recommended grade level.  Students with special learning needs can be sensitive to working below grade level.  Defining the level of the book using the letters of the alphabet made this easier.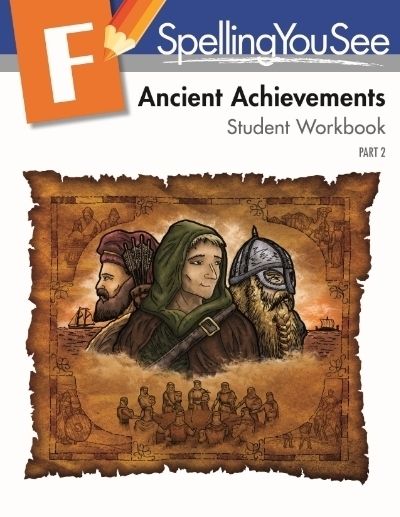 Color is a huge success for students with some of the challenges that our son has had.  Tapping into the child's visual memory by having the color association can make a monumental difference.  And it did in my son's case.  He responded well to starting with the focus on highlighting in color the chunks for the week's lesson with the colors having significance.  Each type of chunk had its own color coding that was consistent throughout the course.  There is just something about the way that his brain processes information that produces much greater gains when utilizing color in this way.
I was truly floored by the success he had.  What would have been tears as a younger child can sometimes show itself in anger from frustration as children get older.  I had myself braced for this as there were many words contained in the passages presented that were specific to Ancient Civilizations.  We had no breakdowns or meltdowns.  The repetitions coupled with color was huge.  The icing on the cake was being able to focus on the words he got correct with appropriate praise rather than focusing on the errors.  Then again, because of how well this curriculum worked, there really weren't that many errors to focus on!
There are times as a mom of a child with special learning needs that you come to accept that maybe you have reached a plateau.  We were at that point before using Spelling U See.  I am so glad that we didn't give up as I have seen consistent improvement during our review period.  Our son is so encouraged that he has not even asked if we will stop using this now that the review is done.  I think his overall confidence in himself is growing as a result of his success with this program.
As always, I encourage you to check out the reviews of my colleagues on The Review Crew to see what others' experiences have been like.