Many times, we use a unit study approach for science and history with one of our children.  He enjoys learning about all kinds of things, but not necessarily in the traditional textbook format.  We gather various types of resources to build units that fall in line with where he is at in his studies.  Our most recent addition was the use of With Lee in Virginia by G.A. Henty in audiobook form as well as the corresponding study guide published by Jim Hodges Productions. Let me share with you what we found as we delved right in.
The Products:
For this review, we received a physical MP3 CD of the unabridged version of G.A. Henty's With Lee in Virginia as produced by Jim Hodges Productions.  This CD has 20 segments to correspond with the same number of chapters in the original text.  Each of the segments is between 25 and 40 minutes in length with a total playing time of 11 hours and 20 minutes when played in its entirety.  This CD will play on any MP3 compatible device.  It was developed for those ages 10 and above.  This applies to everyone in our family and I can say that everyone enjoyed it.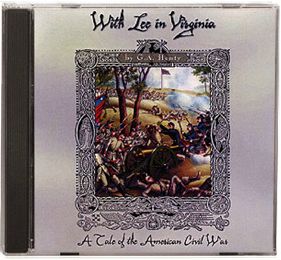 The corresponding study guide is a downloadable product in pdf format that can be purchased from Jim Hodges Productions website. udy guide is a total of 58 p For each chapter in the book, there are vocabulary words, reading comprehension questions, and related activities for your children to explore.  Within the study guide are also quizzes that can be given after completing the work for every five chapters.  This study guide is a total of 58 pages with the final 8 pages devoted to an answer key for easier grading.
The retail cost of the physical MP3 CD is $25.00.  For those that prefer to download the audiobook, you can save $7 by purchasing the download version for just $18.  The corresponding study guide currently sells for $12.  If after reading this review, you are still not sure if this will fit with your family, I would recommend visiting the product page here where you can download a sample of Chapter 12 from the audiobook.
So What Did We Think?
When we first received the CD and realized that it was truly the unabridged edition of Henty's work, I was skeptical as to whether it would keep my children's interest.  I want to emphasize that this is not an audiodrama with more of a storytelling feel with dramatic background music.  This MP3 audiobook is truly a reading of Henty's title, With Lee in Virginia.  This was OK once everyone's ears adjusted in having recently used audiodramas in our learning.  But please don't mistake what I am saying.  This recording was not boring, after all it was a reading of a G.A. Henty book that is jam-packed with adventure.
I really liked the fact that there is a corresponding study guide.  This allows us to use this audiobook to fulfill part of our son's American Literature requirement, while still bringing extra life to our history studies of the Civil War.  The audiobook could be used as a stand-alone version or used in conjunction with the printed text as an aid to children who would benefit from this extra sensory apguide was well put together with good judgment in my opinion of the vocabulary words highlighted and the ability to really pull the essence out of the book through the reading comprehension questions.  The activities at the end of the chapters really varied, but all seemed to be thought provoking.  The speed with which the student completes the book and study guide will really be dependent on how indepth they choose to explore the activities at the end of the each chapter.
All in all, I think Jim Hodges has done a great job of producing a quality audiobook product with a study guide to help really convert it from entertainment to study.  In a home where my husband and I are originally from different sides of the Mason Dixon, With Lee in Virginia provided a way to study the Civil War without bruising his daddy's family roots.
The Old Schoolhouse Review Crew has been busy using and reviewing over 20 Henty audiobooks from Jim Hodges Productions.  Be sure to click on the link below to see what is being said about the other books reviewed.