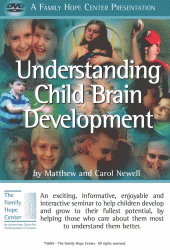 "What in the world is going through my child's head?" is a question every parent has asked at some point. This question is much more urgent for those with children with disabilities or learning challenges. It is a question that I have asked multiple times as we faced struggles with two of our children and then again as my older brother suffered a massive stroke and has been going through rehab. I was anxious to learn more about just how our brains work when we had the opportunity to review Understanding Child Brain Development by the Family Hope Center which is under the direction of Matthew and Carol Newell.
The Family Hope Center is a holistic health organization that works with parents to build a comprehensive, individualized, and fully integrated treatment plan to help children with developmental delays or learning disabilities. They provide 3 day training seminars as well as work individually with families.
In the DVD, Understanding Child Brain Development, Matthew Newell presents an indepth discussion on the various areas and systems of the brain. He identifies the various forms of our natural development during the childhood years and how they relate to the natural development and functioning of certain areas of the brain. The research and implications are simply amazing to me as a mom, homeschool educator of my children, and also as a practicing naturopath who works with children with disabilities. Allow me share some illustrations from our own family's experience that highlights some of the information presented in the DVD.
Mr. Newell presented on the necessity of children spending time on their bellies when they are infants. This later leads to children who progress from being on their bellies to pushing up on all fours and then to crawling. Our second child was determined as an infant to sleep on her back. We tried using rolled up blankets to reposition her and other means to encourage her to be positioned in another way. She inevitably would squirm until she was once again on her back. When just a few months old, we were referred by our pediatrician to the local Children's Hospital for evaluation, because she had developed a flattening of her skull in the back from always being on her back. Thankfully no medical intervention was needed, except for even more attention and repositioning of her on her belly. When she became ready to start being mobile, our dear daughter decided to skip crawling all together. She hopped across the floor and then moved on to walking. Everyone seemed to think this was cute until we discovered at the age of 4 just how incredibly important crawling is to a child's development. Our daughter never developed the area of her brain that was integral in being able to use a pencil correctly for writing nor had the muscle structure in her hands developed properly from the lack of weight bearing that crawling would have provided. Our pediatrician once again referred us for additional evaluation. The occupational therapist that we worked with was very consistent in communicating the same type of information that is shared in Understanding Child Brain Development. We began playing games that required crawling and had wheelbarrow races nightly. What we were doing was developing an area of our daughter's brain that had never fully developed, because of her lack of tummy time as an infant.
Our third child thankfully did crawl, but would later present to us several learning challenges. Each of the difficulties he experienced was marked by developmental delays in a part of the brain known as the corpus collosum. We found that he had visual tracking issues, struggles with word finding, and also tendencies toward dyslexia. To those untrained in child brain development, the answer to not being able to read is to force your child to read more. For our son, this was not only the wrong answer, but would have been exceptionally exhausting and defeating. The issue was a physical delay in the way his brain was working. Over the next couple of years, we would nourish his brain through a special diet and provide lots of exercises that helped his body develop and train the workings of his brain in the areas that seemed to be lagging. I am thankful that we are now on the other side of many of these challenges. He is preparing the way to enter high school in another year with a sense of self-confidence rather than failure and a sense of accomplishment that we would have never thought possible 5 years ago.
The information presented in Understanding Child Brain Development is the science behind brain function and development that is the basis for the therapy programs that would be suggested by the Newell's as they work with families through the Family Hope Center. As a naturopath, I am excited about the availability of this resource. It will be a blessing to direct families to in explaining just how the brain works and why certain developmental milestones are not being reached as expected. It is a springboard for developing a holistic approach to helping children with disabilities to be all that they truly can be.
This resource sells for $19.00.  It can be purchased through the Family Hope Center at their website or can be ordered by phone at 610-397-1737. For those of you that are familiar with the work of Andrew Pudewa, you will be happy to know that he has also endorses the work of the Newells and is making this DVD available through the Institute for Excellence in Writing's website as well.
For thoughts on this DVD by my colleagues at the homeschool review, be sure to click on the button below to check out their reviews.