Over the years, our family has had the pleasure of using a wide variety of unit studies.  There have been studies for literature, science, and social studies or history units.  There are also those that cross over major subject areas in really exploring and experiencing a unit of study.  This is exactly what we have found in using the unit studies from Homeschool Legacy.  Our 15 year old has been studying early American History this year.  He started his year using the Native America study from Homeschool Legacy and will be finishing up his year with the Westward Ho units.  We will use examples from our most recent experience with Westward Ho I in this review to give you a feeling of what one product has to offer.  The other units from Homeschool Legacy are all very similar in their format.
Homeschool Legacy Unit Studies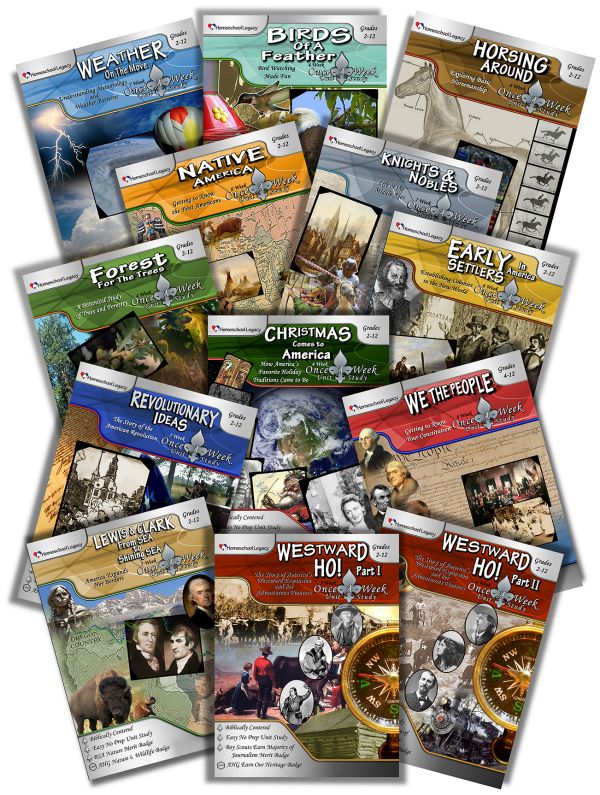 The unit studies from Homeschool Legacy are also referred to as the once-a-week studies.  When I first heard this, I questioned the meatiness of the units and were they really appropriate for grades 2-12.  As we got knee deep into the study itself and really using it, I discovered that my fears were just that.  The units from Homeschool Legacy vary in length and can be as indepth as you wish.  The Westward Ho I study we used is meant to be completed in 5 weeks and can easily be done in that timeframe.  It is tempting to exceed this as you see your child's enthusiasm into the material being covered and the great literature they are enjoying.  There are some weeks that the variety of activities leaves you wanting to do all of them rather than picking and choosing a couple.
The units from Homeschool Legacy are affordable and can be purchased in both physical or download versions.  Unlike unit studies that have lapbook features, these units do not have an abundance of pages that require a lot of printing.  There are some maps, recipes, and other student work pages, but these are just a fraction of the total unit.  It is comprised greatly of creative ideas across all subject areas that spur your student to do work outside of traditional worksheets or even notebooking pages.  Generally, I like to have a hard copy of the study we are working on.  The Westward Ho I unit had lots of links built into the text that led us on new learning adventures that we may have overlooked in just using a printed copy.
Let me give you some more specifics of what we learned, did, and encountered in completing the Westward Ho I unit.
How We Used the Study
When our downloadable copy of Westward Ho I arrived, I skimmed through the unit and we jumped right in.  I try to review these units at least a couple of days before we are actually supposed to begin our learning.  This is not because there is a ton of parent prep ~ there is actually very little.  However, the very first pages of each week contain wonderful suggested reading lists of books that can be checked out of your public library.  These books are used to research and learn more about the topics highlighted in the weekly study.  The wonderful part is that there are not specific reading comprehension questions on particular reads, so no sweating if your library does not have the exact titles.  We just selected books on the same topic or theme for the week.
For example, the first week of our study focused on Frontiersmen as well as the literary form of tall tales as they were very much a part of the Westward Movement.  
Some of the books shown here were directly off of Sharon Gibson's reading list in the study and others were ones we happened upon when exploring at the library.  Did I mention the great library skills your children can gain from finding these great resources?

We then used these books as the backbone of our study.  The week focused on both Daniel Boone and Davy Crockett as examples of well-known Frontiersmen.  Being from Kentucky and having visited Boonesboro, our son decided to do his reading and research on Davy Crockett.  We had some wonderful discussion after on which of these men would make a better role model or hero for young men of today.  It also led us into really considering what they each contributed to both our local as well as national history.
Our library selections also included examples of well known Tall Tales.  We studied these examples as we learned more about our this genre of writing and then we wrote.  Writing is normally a grit your teeth and bare it experience for our son, but he really enjoyed this assignment after being inspired by the examples and having it feel like more than just an exercise.
So, let me backtrack for a moment.  After obtaining our library resources, which at times include family friendly movies to bring the study even more to life, we would then do the family devotion on day one and then I would provide a map from the assortment of activities for my son to do each week.  Some weeks we did all of the activities and projects and on other weeks we selected some.  The wonderful part of these units is that there is such variety.  Within the five weeks we spent using Westward Ho I, we had learning experiences in Science, History, Geography and Mapping, Writing, Literature, Cooking, Art, Music, Life Skills, and Bible.  This variety insured that boredom was not a word in our home associated with this study or others we have used from Homeschool Legacy.
As an example of being able to select activities, Week 2 offered two suggestions for life skill applications – making a tin can lantern and churning butter.  Churning butter is something that our family routinely does in having a dairy farm.  Our son is responsible for rounding up the cows each morning and evening.  He was able to make the tin can lantern instead and used this one evening after dark to see just how challenging it would be to use this source of light rather than a flashlight.
There are also great read-aloud suggestions that can be built into your school day or used at night before everyone heads to bed.  Again, these are suggested titles, but could easily be substituted with other book selections.  At no time during our study did I feel that the suggested books where inappropriate for any of my children, but comprised of quality, living literature.
Our son did build a timeline during this study of significant developments.  Partnered with this were great studies on key individuals and what they contributed.  It was wonderful as a mom to once again see that twinkle in my son's eyes as he considers what he might contribute to history someday as he explores where God will take him.
Special Feature
A special feature of many of the unit studies from Homeschool Legacy is their alignment with merit badges from both Boy Scouts and American Heritage Girls.  It is a great way to be working on merit badges while simultaneously continuing the work you would normally do in school.  There are special notations throughout the study which identify exactly which activities must be done to fulfill the requirements of these badges.
Our Final Thoughts
Our family has come to love the units from Homeschool Legacy.  They offer a literature rich approach to study across subjects meeting your child wherever his or her reading ability is.  Because the ability to pick your own reading lists as well as choose from a breadth of activities, the study takes on a life of its own.  Some of the other things we really appreciated about the Westward Ho I and other units from Sharon Gibson are:
I learned that my son loves to cook.  I had no idea since many times he is out working on our farm when I am preparing meals.
These units can really stand on there own with only the need to add in additional math and grammar instruction.
The flexibility in projects really does allow for a meaningful learning experience whether your children are in the early elementary grades or high school.  There are also great opportunities for the whole family to learn together.
We loved learning about the people behind the history.  There is just something about learning about the lives of those that shaped our history and what their daily lives were like.
I was able to squeeze in some additional study on art and music that sometimes neglected due to our busy days.
There truly is little to no additional parent preparation needed.
We used the Westward Ho I study as part of a full year of focusing on Early American History.  The full year can be built by linking the studies offered from Homeschool Legacy together in chronological order.
The only piece we found to be missing was the Civil War.  In contacting the company, I was told that it is one of the next studies to be released.
There are also a wide variety of more science themed units that our family has yet to explore.
As always, this is just our experience.  I encourage you to check out the other reviews being posted by our Crewmates by clicking on the graphic below.