This week's review is from one of our favorite homeschool curriculum publishers,
Apologia Educational Ministries
. Our family, like a lot of homeschool families, is very familiar with Apologia's science curriculum packages. This review however is on one of Apologia's discipleship curriculums from their What Do I Believe series. We reviewed the fourth book in this series,
What on Earth Can I Do?
as well as the
What on Earth Can I Do Notebooking Journal
,
What On Earth Can I Do Junior Notebooking Journal
, and the
What on Earth Can I Do Coloring Book
that can be used in conjunction with the main text. Join us in sharing our experiences and thoughts on this new addition to our family's educational and spiritual journey.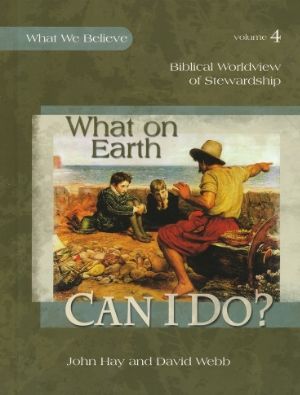 What We Received:
The What on Earth Can I Do? text is a hardbound book that contains all of the content for this curriculum. The curriculum was created for families with children in Grades 1-6, but could also be expanded to touch the hearts of those younger and older. The text can be used independently by older students, but also makes a great read aloud resource to use with the whole family whether as part of your school day or during a family devotional time. The core concept of the study is to encourage children to think about what they personally can do for the Lord in their own lives.
Accompanying this text are three levels of supplemental materials. The notebooking journal, which we used with our son, is ideal for use with children in the upper elementary grades.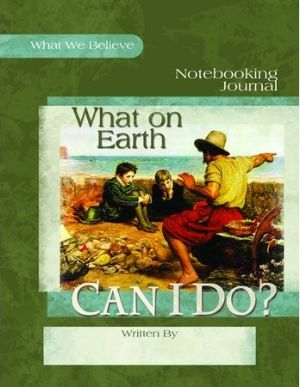 There is a similar junior notebooking journal for those students in the early elementary grades and even a wonderful What on Earth Can I Do? coloring book for the preschool and kindergarteners in your life that are joining in on the fun.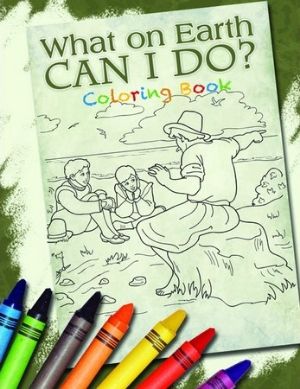 Both the notebooking journal and the junior notebooking journal are spiral bound so that they lay flat on the table as your student works. They retail for $24 each on the publisher's website, while the coloring book is available for $8. The main text is available for $39. These resources are filled with wonderful pictures and color for eye appeal in both of the notebooking journals as well as the main text.
For an overview of topics covered, please check out the table of contents for the study as well as some samples that can be found on the Apologia site here.
What We Did:
During this review period, I used the main text as well as the notebooking journal with our 10 year old son.  In hindsight, the information in this course is so inspiring that I think it would have been a wonderful resource for the whole family.
Before jumping in with both feet, I perused the Getting Started sections in both the text and the notebooking journal.  Those sections are priceless in helping you to organize how to approach the study.  As a parent, I love to enjoy the journey of learning with my children, but love it when the study is already clearly laid out for us.  The lesson plans contained in the Notebooking Journal did exactly that.  Based on these lesson plans, there are 48 instructional days to complete the study.  Depending on how you choose to pace those lessons, the study could be accomplished in either a half or whole year.  I chose a pace of about 2 lessons per week.  This seemed to work well as I really wanted my son to have some time to chew on what we studied before moving on.  The days when we did not do new lessons I found to be days when the wheels kept turning with us starting off the next day with wonderful discussion from the prior lesson before moving on.
The content in the text is a combination of personal challenges, biographies, and stories.  This mixture allows for lots of information to be presented, but does not fall into a dry rut by any imagination.  Some of the days are filled with more than 10 pages of reading that I would share out loud with our son.  These days were generally stories that really captivated him.  On other days the reading was on more conceptual things for him to chew on and were much shorter.
After we completed the reading selection for the day, we would then either work that day or the next on the activity pages in the notebooking journal.  Some lessons we found ourselves completing all of the associated pages and some lessons we chose to skip some of the pages, but engaged in uplifting conversation filled with personal challenges and questions.  The activity pages in the notebooking journal were a combination of places where our son could journal about things in his own life, record personal challenges, define key terms, write key bible verses as practice for memorization, and completion of crossword puzzles and word searches to review the material from the lesson.
At the end of each lesson, there is a Find Out More page.  This page is loaded with project ideas, book ideas, songs, and even movie suggestions that tie right in with the lesson.  This could be completely optional material or could be used to expand your study and learn more about a lesson that is particularly intriguing.
Our Thoughts:
Our family has thoroughly loved the science resources from Apologia and found ourselves just as in love with the What We Believe series through our experience in using What on Earth Can I Do?  In having used the Apologia Exploring Creation science series, the layout of the books and notebooking journals was very familiar.  The content was equally as impressive.
My son loved this study because it focused on real people – those from history and his own personal walk with the Lord.  Many children brought up in church are taught lots of doctrine and biblical principles.  What on Earth Can I Do? helped our son to realize that he could not only learn about God, but be a powerful force in this world for Him. What he really loved is that he didn't feel preached at and really saw more and more with each lesson how a Christian's daily life and spiritual beliefs are tied together in what transpires and how they react.
There is a large amount of reference to modern world history and key figures spread throughout this book.  For this reason, it would be a great resource to piggyback studies in modern world history for those that use a Classical Approach to homeschooling.  Those adherents to a more Charlotte Mason approach will not be disappointed as the curriculum utilizes copywork, narration, and lots of journaling.
Before I close allow me to share a small lightbulb moment.  In lesson 1, the text presents a short biographical sketch about Maria Augusta Kutschera, who becomes Maria von Trapp of the famous von Trapp family of World War II.  We were able to read this biographical sketch and then watched the Sound of Music, which was included in the Find Out More page.  Through discussion we had following, I was able to share how the von Trapp family is very much a real family and has an estate in New England that our son's grandmother has visited.  This led us on a journey on the internet to learn more.  All in all these various learning experiences helped our son realize that there were real people behind the movie and what was in the text.  He then started putting the pieces together of how God could use an orphaned girl from a non-Christian home to come to love Him and serve Him through this family that desperately needed a mother and during an era that was difficult for many.  The wheels were then turning as he asked, "Mom, I wonder what God is going to have me do?" as we discussed some of the challenges that our family has endured and how God might use them in our son's life in the future.
What on Earth Can I Do? gets a big thumbs up from this homeschool mom.  But as always, see what others have to share in their reviews found by clicking on the image below.