Our family loves storytelling and the more vivid the story the better. The kids were amazed and inquisitive when they first saw the Walton family gathered around the family radio to listen to special programs that included comedies as well as radio drama. They experienced audio drama at an early age themselves through our Christian radio station and even somewhat when borrowing books on tape from our local library. Because this was already a love for us, I was excited when we had an opportunity to review
Book One: Who Created Everything
audio drama from
Wizzy Gizmo
.
This audio drama came to us on a physical CD, which could be used as is or transferred to an MP3 player.  The story itself was just under 40 minutes in length with an additional 20 minutes of soundtrack included for your listening pleasure.  It is recommended for those ages 4-12 and retails on the publisher's website for $14.99.  A paperback version of this audio drama is also available for purchase.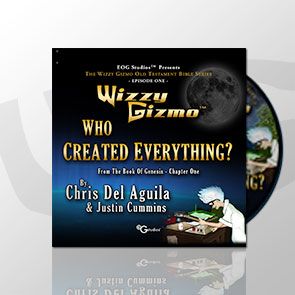 The Story
Wizzy Gizmo is an inventor that has developed a time machine that allows the listener to transport back into time.  For this particular drama, we are traveling back to the very first days of Creation. During this 40 minute drama, the listener experiences the 7 days of Creation as if you were there when they came into existence. The revelation of these new experiences are brought to life through not only the retelling of Genesis 1 from the Bible, but accented through the voices of the characters and the orchestral arrangement in the background. Modern day sound effects are also used to make the listening more mesmerizing.
Our Thoughts
As a mom, I love audio dramas and this Wizzy Gizmo interpretation of Genesis 1 was no exception. The drama included technological intrigue of Wizzy's time travel coupled with a sense of adventure and the inclusion of scripture. Some of the less familiar words from scripture were also explained as part of the drama; for example, the word firmament. It was spellbinding enough that it kept my 10 year old's interest so that requests for TV and video games were non-existant during the time that we listened.
While busy canning green beans from our garden, I put the CD in the player in the kitchen and we listened while we worked. It was fascinating to me that my son kept saying, "This should be made into a movie." After we finished listening, I asked him why he kept mentioning that repeatedly. I was curious if he was bored with just the drama part or where this strong conviction about transforming it into a movie came from. He went on to share this.
As I listen, my brain keeps trying to see what I am hearing. Some parts I can do this with, but others I can't. I keep wanting to really be there and see what it was like.
After prodding him a bit more with some questions about what he did see as he listened, he finally came to this conclusion.
I guess it is best that it isn't a movie. Mom, there is no way that a movie could show what Creation was really like. We can see the fish and the giraffes that God has created, but I can't even imagine what it was like to actually watch Him create all of these things out of nothing. How could you ever show in a movie God creating space and light? It just goes to show that God is the only one that create things out of nothing and we just can't even imagine it.  No movie could really show that, could it?
In the end, I think my son took away a whole lot more than learning what was created on each day from Genesis 1. Younger children and those not exposed to Biblical truth from birth will certainly learn much about how God is the Creator of the universe from this audio drama. However, I rejoice that even through the use of Book One: Who Created Everything, scripture is always new if we are diligent to consider what God has for us in it.
As always, you don't have to just rely on our experience. Other members of the Crew have been reviewing this same audio drama as well as other products from Wizzy Gizmo. Be sure to check them all out. We will certainly be looking into them.