Yesterday afternoon, our family settled in to watch the movie Eragon as a way of keeping our youngest son inside during an allergy flare up. A couple of our children had already read the book and excitedly wanted to share this with us. They had a special connection to this book in that it was written by a former homeschooled student when he was only 15 years old. Writing  a book is an amazing accomplishment for anyone, but to write a bestselling book at the age of 15 is astounding. Truth be told, I would guess that most teenagers (and adults for that matter) have a story or dream that could become a bestselling novel if only they had the encouragement to take on the challenge. Writing Fiction [in High School] is a great resource that we have recently had a chance to review and would recommend to others. It is written and published by Writing with Sharon Watson.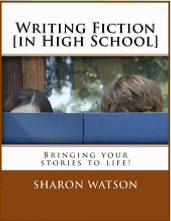 A little about the Curriculum:  Writing Fiction [in High School] is just as the name implies – it is a high school level course that focusses on the skills and art of writing good pieces of fiction from short stories to complete novels. The course is broken into 83 lessons. Most lessons can be completed as a daily assignment with just a handful that might take multiple days to complete. If a child is working on a complete novel additional time would be needed to really work on the full content of the story.
The main text for this course is written to the student. The tone that the author uses is almost conversational which brings a personal and inviting appeal as opposed to some curriculum that are more formally written that can send daunting or stuffy. The content of the study is broken down into 13 chapters and covers all of the major concepts related to writing fiction. Some of the topics included are:
Point of View (Perspective)
Characterization and Character Development
Conflict
Dialogue
Description
Theme
Plot
This is not a complete list, but is meant to share with you that the elements of well written fiction are addressed topically in the curriculum.
There is an accompanying Teacher's Guide. It is soft cover like the student text and contains a summary of the assignments for each chapter, an answer key when appropriate, and notes for to guide the teacher in leading a group discussion, assessing the student's work or understanding how an assignment in Chapter 7 will be used again in Chapters 11 or 13.
What We Thought:
 We used this curriculum with our daughter who is about to complete her first year of high school. She has a novel started and was motivated to work through this curriculum to get pointers and insights that she can add to her writing. Her motivation was a huge help, but I honestly feel that this curriculum would work well with a student that was less motivated. The author is truly speaking to the student in language she understands and can relate to. The examples in the book are brought from movies or pieces of literature that most homeschooled students will have come into contact with. As a parent I loved this. My child could relate to what was being said and be ready to implement it without my having to act as a translator between a formal presentation of the material and her understanding. Do not let this observation lead you to believe that this is a remedial level class. It is truly a high school level work that is written in a way that excites and inspires the student rather than bore him or intimidate him.
The individual lessons and assignments were very manageable. The reading that was assigned on a daily basis was about 2-3 pages in the text and the writing assignments ranged from 100 to 750 words. This was very reasonable for high school level work. There are some suggested outside reading assignments that are recommended for the students. These include some short stories, some movies to watch, and a single novel to read, The Last Book in the Universe by Rodman Philbrick.
This course can be completed individually or would work really well in a group. Guidelines are included for those that choose to use it in a homeschool group or co-op that assist the students in how to critique the work of others.
The cost of the course is quite reasonable. The student text is priced at $25.05 and the accompanying teacher's guide is $9.95. Both of these are published in soft cover format.  We have looked at another popular curriculum that assists the student in writing their own novel, which was priced at about $200.  We have never pursued this other curriculum because it was cost prohibitive.
All in all, we enjoyed the opportunity to review Writing Fiction [in High School] by Writing with Sharon Watson. We plan to complete this course during our daughter's sophomore year with her spending significant time completing her novel that she  has already begun. A wonderful year of fun writing and fulfilling dreams before buckling down to more extensive work on those timed essays for the college entrance exams.
As always, check out what other members of the Review Crew have to say about this and other curriculum by visiting